The Lowdown Amateur Radio Antenna offers amateur radio enthusiasts a convenient way to communicate on 630 meters in a confined area. Designed to be centered above a horizontal groundplane, this antenna is amazingly compact and lightweight, making it simple to set up, take down, transport and store. Its center-loaded, base-fed design and capacitive top hat yield excellent efficiency given its compact size.
Order from

e

b

a

y

.>>>

Or email or call us directly at 616.772.2300 x102 (9-5 eastern).
Specifications *

Type: LF base, vertical, whip, omnidirectional.
Impedance: 20-33 ohms with 25'-10' radius groundplanes, respectively.
Efficiency: up to 3.0 %.
Power rating (approx.): 200-watt carrier.
Frequency coverage: 472 – 479 kHz (630-meter band).
Operating height AGL: 24' nominal.
Assembled length: 21.54'.
Element diameters: base: 1.5"; coil: 3.75"; midtip/tip: 1.5"/1.0".
Capacitive hat: 120" diameter (maximum).
Breakdown: 4 pieces plus 6-element capacitive top hat, longest element 94".
Tunable adjustments: capacitive top hat diameter (whip length).
Weight: 18.9 lbs.
Material: aluminum (anodized), fiberglass reinforced PVC.
Hardware: stainless steel.
Feed line connector: ¼" screw stud.
Mounting type recommended: 1.5" Insulated, block mounts.
Mounting format: top of mast or pole.
Mounting structure: 4" pole, 4' height (typical).
Wind surface area: 3.15 square feet.
Wind survivability rating: 140 mph guyed; 100 mph unguyed (48" mount separation).
Bandwidth: 6 kHz (3:1 SWR); 4 kHz (2:1 SWR).

Future Options

Block mounts.

Mast/stands.

Matching transformers.
Groundplanes.

* These specifications are subject to change without notice.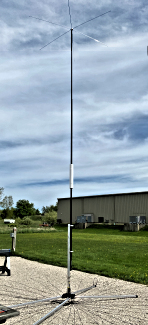 The above support stand and groundplane shown with the antenna are future options.