Health Department Example
"It seems that a lot of people rely too heavily on technology that is prone to breakdowns from overloaded, super sensitive, communications equipment. Which also have been proven to malfunction and shut down when you need it the most [during emergencies].

"Here in Hendricks County there has been somewhat of a drive lately to educate the communities that when nothing seems to work in communications, tune to the county'sAM portable radio Station from the county health to get the latest instructions, news, and information.

"These portable [RadioSTAT]AM radio Stations will prove their worth by warning and giving information to the communities, times when all else fails."
Ron Burke, ARES
Region 5 Health Departments, IN
Emergency Management Example
"Voicestar is THE key resource to what has been referred to as the national model for vaccine delivery. This is not just my opinion but was said by Governor JB Pritzker in the press conference in Quincy [after his recent tour of Simon's facility]. Honestly, the VoiceStar System was the thing that impressed him the most."
John Simon, Director
Adams County Emergency Management, IL
National Park Example
"Zion National Park has recently [in 2021] upgraded its TIS radio System to coordinate with the Park's other media and information outlets in response to the historic visitation that the park is experiencing."

The Park operates four independently programmed Information Stations along Utah Route 9, which traverses the Park. Zion is moving to a file-based audio management System to increase broadcast quality and staff convenience. Hear a Zion National Park radio broadcast.
Mike Large, Lead Ranger
Zion National Park, UT
Department of Transportation Example
In 2016, the FCC approved a 5000 Hz filtering formulation that effectively expanded HAR Stations' bandwidth by almost 70% without the necessity for transmitters to be re-certified. It took the Mackinac Bridge Authority in Michigan fewer than 3 weeks after the announcement to get HQ 5.0 upgrade kits procured and installed on its pair of Stations that flank the span to the north and south.

Clicking a state on the map takes you quickly to that state.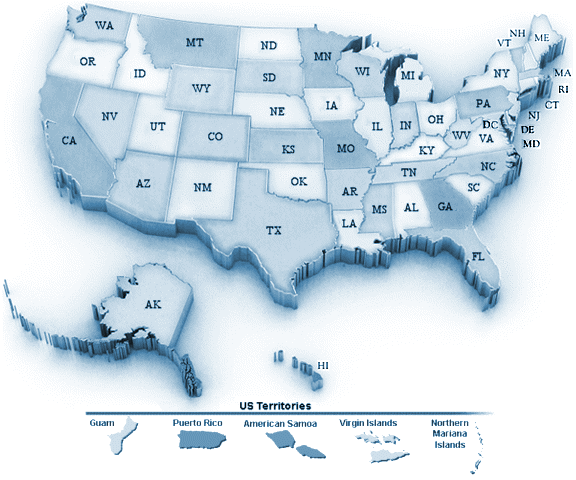 ALASKA
Admiralty Island National Monument, US Department of Agriculture Forest Service (USDAFS) - (fixed Information Station)
Alaska Aerospace Corporation Aurora Launch Services, Kodiak Island - 1610AM (fixed RadioSAFE System)
Denali National Park, National Park Service (NPS) - 1610AM (fixed Information Station)
Kenai Fjords National Monument, National Park Service (NPS) - 1610AM (fixed Information Station)
Mendenhall Glacier/Admiralty Island National Monument, National Park Service (NPS) - 1610AM (fixed Information Station)
University of Alaska, Anchorage - 1610AM (fixed Information Station)
RETURN TO TOP
ALABAMA
Alabama Department of Transportation - various frequencies (multiple fixed and portable Highway Advisory Radio Stations)
Barber Motor Sports Park Museum, Leeds - 1610AM (2 fixed Information Stations)
Birmingham, City of - 1630 (fixed or portable VoiceStar Station and fixed or portable RadioSTAT Station)
Florence Police Department - 1610AM (fixed ALERT AM Station)
Fort Rucker Army Base - 1610AM (2 synched fixed ALERT AM Stations, 14 Flashing ALERT Signs)
McIntosh, Town of - 1610AM (fixed ALERT AM Station)
Selma to Montgomery National Historic Trail, National Park Service (NPS) - 1650AM (3 fixed Information Stations)
RETURN TO TOP
ARIZONA
Arizona Department of Emergency Management (See Ironwood National Monument.)
Arizona Department of Transportation - various frequencies (multiple fixed and portable Highway Advisory Radio Stations)
Arizona Game and Fish Department - various 1610AM (multiple fixed Information Stations)
Arizona, State of - 1650 and 1690 (2 fixed or portable RadioSTAT Stations)
Flagstaff National Monuments, National Park Service (NPS) - 1620AM (fixed Information Station)
Glen Canyon National Recreation Area Rainbow Bridge National Monument, National Park Service (NPS) - 1610AM (fixed Information Station)
Grand Canyon National Park, National Park Service (NPS) - various 1610AM (multiple fixed Information Stations)
Ironwood Forest National Monument, Arizona Department of Emergency Management - 530AM (fixed or portable RadioSTAT Station)
Maricopa County - 1670AM (portable RadioSTAT Station)
Meteor Crater/Winslow - 1610AM (fixed Information Station)
Navajo National Monument, National Park Service (NPS) - 1610AM (fixed Information Stations)
Northern Arizona University Police - 1610AM (fixed Information Station)
Petrified Forest National Park, National Park Service (NPS) - 1610AM (fixed Information Station)
Pipe Spring National Monument, National Park Service (NPS) - 1610AM (fixed Information Station)
San Luis (City of), US Customs and Border Patrol (CBP) - 530AM (fixed Information Station)
Sunset Crater Volcano National Monument, National Park Service (NPS) - 1620AM (fixed Information Station)
Tonto National Forest, US Department of Agriculture Forest Service (USDAFS) - 1610AM (fixed Information Station)
Walnut Canyon National Monument, National Parks Service - 1620AM (fixed Information Station)
RETURN TO TOP
ARKANSAS
Arkansas Department of Transportation - various frequencies (multiple fixed and portable Highway Advisory Radio Stations)
Felsenthal National Wildlife Refuge, oklahom Service (USFWS) - 1620AM (fixed Information Station)
Little Rock National Airport - 1690AM (fixed Information Station)
Kenai Fjords National Park, National Park Service (NPS) - 1610AM (fixed Information Station)
McClellan-Kerr Arkansas River Navigation System, US Army Corps of Engineers (USACE), Little Rock - 1620AM (fixed ALERT AM System with 2 transmitters)
Rogers, City of - 1610AM (fixed Information Station)
RETURN TO TOP
CALIFORNIA
Alameda, City of - 1280AM (fixed Information Station)
Alpine County - 1610AM (fixed or portable RoadRunnR Station with 3 signs; fixed ALERT AM Station with 3 Flashing ALERT Signs)
Amador County - 530AM (fixed or portable RoadRunnR Station)
Antelope Valley Fire Protection District - 1610AM (fixed emergency advisory radio Station)
Berkeley, City of - 1610AM (fixed Information Station)
Berry Creek Fire Safe Council - 1250AM (fixed ALERT AM Station)
Beverly Hills, City of - 1500AM (computer-controlled fixed ALERT AM Station)
Burbank Airport (See Hollywood Burbank Airport.)
Butte County - 1460AM (fixed ALERT AM Station)
Cabrillo National Monument, National Park Service (NPS) - 1610AM (fixed Information Station)
Calabasas, City of - 1630AM (fixed ALERT AM Station)
Calexico, US Customs and Border Patrol (CBP) - 1610AM (fixed Information Station)
California Department of Transportation (CALTRANS) - various frequencies (multiple fixed and portable Highway Advisory Radio Stations)
California Polytechnic University, San Luis Obispo - 1610AM (fixed ALERT AM Station)
California State University, Fullerton - 1620AM (fixed Information Station)
California State University, Long Beach - 1690AM (fixed ALERT AM Station)
Calistoga, City of - 1670AM (fixed or portable RadioSTAT)
Carmel Highlands Fire Protection District - 1700AM (fixed Multi-Message Edition Information Station)
Chaffey Community College - 1630 (fixed custom Information Station)
Chico Police Department - 1500AM (fixed Information Station)
Chula Vista, City of - 1610AM (1990 emergency advisory Station)
Coronado (City of) Police Department - 530AM (fixed Information Station)
Culver City Fire Department - 1690AM (fixed Information Station)
Cupertino, City of - 1670AM (computer-controlled fixed ALERT AM Station)
Davis, City of - 1300AM (sign flashing module; fixed ALERT AM Station)
Edwards Air Force Base - 1610AM (2 fixed Information Stations)
El Segundo, City of - 1040AM (fixed ALERT AM Station, 2 Flashing ALERT Signs)
Encinitas, City of - 1500AM (fixed or portable RadioSTAT Station)
Englebright Lake, US Army Corps of Engineers - 1650AM (fixed or portable VoiceStar Station)
Fairfield, City of - 1670AM (fixed or portable RadioSTAT Station)
Fillmore, City of - 1620AM (fixed Information Station)
Foothill De Anza Community College District - 1610AM (fixed Information Station)
Foresthill Fire Protection District - 1020AM (fixed RadioSAFE System)
Foster City - 1680AM (fixed Information Station)
Gilroy, City of - 1610AM (fixed ALERT AM Station)
Glendale, City of - 1680AM (fixed, computer-controlled ALERT AM Station)
Grand Terrace, City of - 1640AM (fixed Information Station)
Greenfield, City of - 1610AM (fixed ALERT AM Station)
Hollywood Burbank Airport - 1700AM (fixed Information Station)
Idyllwild, Town of - 1610AM (custom Station)
Irvine, City of - 1640AM (4 fixed ALERT AM Stations)
Joshua Tree National Monument, National Park Service - 1610AM (3 fixed Information Stations)
Jurupa Valley, City of - 1690AM (fixed or portable RadioSTAT Station)
Kern County - 1610AM (fixed Information Station)
Lafayette, City of - 1670AM (fixed Information Station)
Lake Almanor (See "Peninsula Fire Protections District.")
Lake Forest, City of - 1690AM (fixed Information Station)
Lassen National Forest, US Department of Agriculture Forest Service (USDAFS) - 1610AM (fixed Information Station)
Loma Linda, City of - 1690AM (fixed or portable RadioSTAT Station)
Los Altos Hills, Town of - 530AM (fixed Information Station with weather radio)
Los Angeles County - 850AM (fixed or portable RadioSTAT Station)
Los Angeles Department of Transportation - (fixed or portable RoadRunnR Station)
Lower Rio Grande Valley National Wildlife Refuge, US Fish and Wildlife Service (USFWS) - 530AM (fixed Information Station)
Malibu, City of - 1610AM (fixed RadioSAFE System)
Manzanar National Historic Site, National Park Service (NPS) - 1610AM (fixed Information Station)
Martinez, Town of - 530AM (fixed Information Station)
Mendocino National Forest, US Department of Agriculture Forest Service (USDAFS) - 530 &1610AM (5 fixed Information Stations)
Menlo Park Police Department - 1670AM (fixed Information Station)
Mojave Desert National Preserve, National Park Service (NPS) - various frequencies (multiple fixed Information Stations)
Mono County - 1610AM (fixed ALERT AM Station)
Montecito, City of - 1690AM (fixed ALERT AM Station)
Monterey Fire Department - 1670AM (fixed Information Station)
Moraga Orinda Fire Protection District - 530AM (fixed Information Station)
Morgan Hill, City of - 1610AM (fixed Information Station)
Morro Bay, Town of - 1620AM (fixed Information Station)
Mount Baldy, Village of - 1690AM (fixed or portable RadioSTAT Station); 1610AM (fixed ALERT AM Station)
Murrieta, City of - 1640AM (2 fixed ALERT AM Stations)
National Aeronautics and Space Administration'sAMes Research Center, San Jose (NASA) - 1700AM (fixed Information Station)
Newark, City of - 1610AM (fixed Information Station)
North Tahoe Fire Protection District - 1630AM (3 fixed or portable RadioSTAT Stations)
Novato, City of - 530AM (fixed Information Station)
Oakland, City of - 530AM (fixed Information Station and ALERT AM SuperStation)
Oakland International Airport - 1700AM (fixed ALERT AM Station)
Oceano Dunes State Vehicular Recreational Area, California Department of Parks and Recreation - 1690AM (fixed Information Station)
Oildale North of the River Municipal Water District - 1610AM (fixed Information Station)
Palm Desert (See Sun City.)
Palm Springs, City of - 1690AM (fixed ALERT AM Station)
Pebble Beach (City of) Chamber of Commerce - 1620AM (fixed Information Station)
Peninsula Fire Prevention District, Lake Almanor - 1700AM (fixed RadioSAFE System)
Pine Mountain Homeowners Club near Bakersfield - 1610AM (fixed Information Station)
Pismo Beach (City of) Chamber of Commerce - 1610AM (fixed Information Station)
Pittsburg, City of - 1670AM (fixed ALERT AM Station)
Point Reyes National Seashore, National Park Service (NPS) - 1610AM (multiple fixed Information Stations)
Port of Stockton - 1680AM (fixed ALERT AM Station; Flashing ALERT Signs)
Portola Valley, Town of - 1680AM (fixed or portable RadioSTAT)
Redondo Beach, City of - 1630AM (fixed, computer-controlled ALERT AM Station; 3 Flashing ALERT Signs)
Richmond, City of - 790AM (fixed ALERT AM Station)
Riverside County - 1610, 1690AM (3 fixed RadioSAFE Systems)
Sacramento County - 1670AM (fixed or portable RoadRunnR Station)
Sacramento International Airport - 530AM (fixed Information Station)
San Diego Convention Center - 1610AM (fixed Information Station)
San Diego International Airport - 1690AM (fixed Information Station)
San Diego Park and Recreation Department - 1690AM (fixed Information Station)
San Francisco International Airport - 1610AM (fixed Information Station)
San Joaquin County, Stockton - 530 and 1030AM (fixed or portable RadioSTAT Station; 3 fixed or portable RoadRunnR Stations)
San Leandro, City of - 1610AM (fixed Information Station)
San Mateo, City of - 530 and 1680AM (2 fixed Information Stations)
San Marcos (City of), Wildland Residents Association - 1610AM (fixed or portable RadioSTAT IP Station, fixed ALERT AM Station, Signs)
San Bernardino, City of - 1610AM (fixed Information Station)
San Jose, City of - 1340AM (customer portable Information Station)
San Jose International Airport - 530AM (fixed ALERT AM Station)
San Jose University - 1700AM (fixed Information Station, custom)
San Marcos Pass Volunteer Fire Department, Santa Barbara and Wildland Residents Association - 1040AM (fixed ALERT AM Station)
Santa Ana Traffic Engineering - 1620AM (fixed ALERT AM Station)
Santa Barbara County - 530AM (6 fixed RadioSAFE Systems)
Santa Monica, City of - 1680AM (fixed Information Station)
Santa Monica Mountains National Recreation Area, National Park Service (NPS) - 1610AM (multiple fixed Information Stations)
Santa Paula, City of - 1610AM (fixed ALERT AM Station)
Saratoga, City of - 1610AM (fixed ALERT AM Station)
Sequoia and Kings Canyon National Park, National Park Service (NPS) - 1610AM (multiple fixed Information Stations)
Sequoia National Forest, US Department of Agriculture Forest Service (USDAFS) - 1610AM (fixed Information Station)
Sierra Madre, City of - 1630AM (fixed Information Station)
Stockton, City of - various frequencies (multiple fixed or portable RoadRunnRs)
Stockton, Port of (See Port of Stockton.)
Sugar Bowl Ski Resort - 530AM (fixed Information Station)
Sun City Palm Desert - 1620AM (fixed Information Station, 3 Flashing ALERT Signs)
Sunnyvale, City of - 530AM (fixed Information Station)
Taft District Chamber of Commerce - 1610AM (fixed Information Station)
Temecula, City of - 1610AM (fixed ALERT AM Station)
Torrance, City of - 1620AM (fixed, computer-controlled ALERT AM Station)
Travis Air Force Base - 1710AM (fixed Information Station IP and 6 Flashing ALERT Signs)
Truckee, Town of - 1670AM (fixed or portable RadioSTAT Station)
University of California, Irvine - 1690 (fixed ALERT AM Station with ENcast, 5 Flashing ALERT Signs)
University of California, Los Angeles - 1630AM (fixed, computer-controlled ALERT AM Station)
University of California, San Diego - 1610AM (fixed ALERT AM Station)
University of California, Santa Barbara - 1610AM (fixed Information Station)
Vacaville, City of - 530AM (2 fixed ALERT AM Stations)
Ventura County - 850 and 1690AM (fixed or portable RadioSTAT Station and 2 VoiceStar Stations)
Ventura Naval Base, Oxnard - 1610AM (2 portable Information Stations)
Whiskeytown National Recreation Area, National Park Service (NPS) - 1440AM (fixed Information Station)
Wildland Residents Association (See San Marcos ...)
Wrightwood, Town of - 1610AM (fixed ALERT AM Station)
Yankee Hill, Town of - 1630AM (fixed ALERT AM Station; 10 static signs)
Yosemite National Park, National Park Service (NPS) - 1610AM (multiple fixed or portable RadioSTAT Stations and fixed Information Stations)
RETURN TO TOP
COLORADO
Breckenridge, Town of - 530AM (fixed Information Station)
Bents Old Fort National Historic Site, National Park Service (NPS) - 1610AM (fixed Information Station)
Central City - 530AM (fixed Information Station)
Cripple Creek, Town of - 1610AM (fixed Information Station)
Curecanti National Recreation Area, National Park Service (NPS) - 1610AM (fixed Information Station)
Denver, City and County of - 1260AM (fixed ALERT AM Station)
Denver International Airport - 540AM (fixed computer-controlled Information Station)
Dolores River Recreation Management Area - 1610AM (fixed Information Station)
Estes Park, Town of - 1470AM (fixed ALERT AM Station)
Las Animas County - various 1590 and 1610 locations (multiple fixed Information Stations)
Longmont, City of - 1670 (fixed ALERT AM Station)
Manitou Springs (City of) Chamber of Commerce - 530AM (2 fixed Information Stations)
Mesa Verde National Park, National Park Service (NPS) - 1610AM (fixed Information Station)
Rocky Mountain National Park, National Park Service (NPS) - 530 and 1610AM locations (multiple fixed Information Stations)
San Luis Valley Tourism - 1610AM (fixed Information Station)
Vail, Village of- 1610AM (2 fixed Information Station)
White River National Forest, US Department of Agriculture Forest Service (USDAFS) - 1610AM (fixed Information Station)
RETURN TO TOP
CONNECTICUT
Connecticut Department of Transportation - various frequencies (multiple fixed and portable Highway Advisory Radio Stations)
Glastonbury, Town of - 1570AM (custom Station)
Greenport Village - (fixed Information Station)
Manchester, Town of - 1630AM (fixed ALERT AM Station)
New Haven Emergency Operations - 1610AM (fixed Information Station)
Westbrook, Town of - 1630 and 1640AM (2 fixed or portable RadioSTAT Stations)
Winchester, Town of - 1620AM (fixed Information Station)
RETURN TO TOP
DELAWARE
Delaware Department of Transportation - 1380AM (fixed Highway Advisory Radio Station)
Wilmington, City of - 1640AM (3 fixed ALERT AM Stations)
RETURN TO TOP
DISTRICT OF COLUMBIA
Food and Drug Administration Health and Human Services - 1610AM (fixed Information Station)
National Capitol Monuments, National Park Service (NPS) - 1170AM (fixed Information Station)
RETURN TO TOP
FLORIDA
Boca Raton, City of - 1650AM (2 fixed, synchronized Info and ALERT AM Stations; 1 fixed or portable RoadRunnR Station)
Boynton Beach, City of - 1670AM (fixed ALERT AM Station)
Broward County - 1100 and 1120AM (5 portable RadioSTAT Stations)
Broward County International Airport, Fort Lauderdale Hollywood - 1670AM (fixed Information Station)
Cape Coral, City of - 1650AM (2 fixed ALERT AM Stations)
Cape Coral Bridge, Lee County Department of Transportation - 1640AM (fixed Information Station)
Casselberry, City of - 1640AM (fixed ALERT AM Station)
Citrus County - 1630AM (fixed or portable RadioSTAT Station)
Coral Springs, City of - 1670AM (2 fixed, computer-controlled SignalCASTIP ALERT AM Stations)
Crystal River National Wildlife Refuge, US Fish and Wildlife Service (USFWS) - 1610AM (fixed Information Station)
Delray Beach, City of - 1700AM (fixed, computer-controlled ALERT AM Station)
Deltona, City of - 1610AM (fixed ALERT AM Station)
Ding Darling National Wildlife Refuge, US Fish and Wildlife Service (USFWS) - 530 and 1610AM (Fixed Information Stations)
Doral, City of - 1670AM (fixed custom Information Station)
Escambia County - 1540AM (1 fixed or portable RoadRunnR Station; 1 portable Info Station)
Fort Lauderdale Hollywood (See Broward County International Airport.)
Fort Myers Airport (See Southwest Florida International Airport.)
Fort Myers Beach, City of - 1640AM (fixed Information Station)
Greater Orlando International Airport (See Orlando International Airport.)
Hallandale Beach, City of - 1620AM (fixed ALERT AM Station)
Hillsborough County Aviation Authority (See Tampa International Airport.)
Kennedy Space Center, Titusville - 1320AM (fixed Information Station)
Key Biscayne, Town of - 1640AM (fixed Information Station)
Lake City Convention and Visitors Bureau - 530AM (fixed Information Station)
Lake Worth, City of - 1690AM (fixed ALERT AM Station)
Lauderhill, City of - 1650AM (fixed, computer-controlled ALERT AM Station)
Lee County Department of Transportation (See Cape Coral Bridge.)
MacDill Air Force Base - 1060AM (fixed Information Station)
Marco Island, City of - 1690AM (fixed ALERT AM Station)
Melbourne, City of - 1650AM (2 fixed ALERT AM Stations)
Miami, City of - 1680AM (3 synchronized fixed ALERT AM Stations; 1 portable RESPONDER1 Station)
National Aeronautics and Space Administration Cape Canaveral Kennedy Space Center - 1320AM (fixed Information Station)
Nocatee Tolomato Community Development District at Ponte Vedra Beach, Jacksonville (City of) - 1630AM (fixed Information Station)
North Miami Beach, City of - 1610AM (fixed Information Station IP)
Oakland Park, City of - 1680AM (fixed ALERT AM Station)
Orlando, City of - 1650AM (4 ALERT AM Stations)
Orlando International Airport - 1700AM (fixed Information Station)
Palm Beach County - 1610/1620AM (2 fixed or portable RoadRunnR Stations)
Palm Beach International Airport - 1630AM (fixed Information Station)
Paynes Prairie Preserve State Park - 1610AM (fixed Information Station)
Pinellas County Department of Transportation - 940-1690AM (8 fixed, synchronized ALERT AM Stations, 1 fixed or portable RoadRunnR Station)
Polk County Emergency Management - 1610AM (fixed Information Station)
Polk County Visitors Bureau - 1630AM (fixed Information Station)
Saint Petersburg Clearwater Airport - 1060AM (fixed Information Station)
Sanibel, City of - 1680AM (fixed Information Station)
Southwest Florida International Airport - 530AM (fixed Information Station)
Sunny Isles Beach Government Center - 1120AM (fixed custom Information Station)
Sunrise, City of - 1610AM (2 fixed, synchronized ALERT AM Stations)
Tallahassee Department of Highways - 1640AM (fixed Highway Advisory Radio Station)
Tampa International Airport - 1610AM (fixed Information Station)
Tarpon Springs, City of - 1610AM (fixed ALERT AM Station)
Titusville Space Center (See Kennedy Space Center.)
Tolomato Community Development District (See Nocatee...)
Weston, City of - 1680AM (fixed ALERT AM Station)
Wilton Manors, City of - 1630AM (fixed ALERT AM Station)
Wellington, Village of - 1680AM (1 fixed ALERT AM Station)
RETURN TO TOP
GEORGIA
Andersonville National Historic Park, National Park Service (NPS) - 1610AM (3 fixed Information Stations)
Buford Dam, US Army Corps of Engineers (USACE) - 1610AM (fixed ALERT AM Station)
Camden County - 1620AM (2 fixed or portable VoiceStar HARs)
Georgia University (See University of Georgia...)
Gulf Islands National Monument, National Park Service (NPS) - 1610AM (fixed Information Station)
Hartsfield-Atlanta International Airport - 830AM (fixed Information Station)
University of Georgia, Athens - 1650AM (fixed, computer-controlled ALERT AM Station)
RETURN TO TOP
HAWAII
Haleakala National Park, National Park Service (NPS) - 1610AM (2 fixed Information Stations)
Hawaii Convention Center - 1610AM (fixed Information Station)
Hawaii Emergency Management Agency - 1620, 1650, 1670 & 1700AM (4 portable RadioSTAT Stations)
RETURN TO TOP
IDAHO
Boise National Forest, US Department of Agriculture Forest Service (USDAFS) - 1610AM (fixed Information Station)
Clearwater National Forest, US Department of Agriculture Forest Service (USDAFS) - 1610AM (fixed Information Station)
Craters of the Moon National Monument, National Park Service (NPS) - 1610AM (fixed Information Station)
Dworshak Dam, US Army Corps of Engineers (USACE) - 1610AM (fixed Information Station)
Idaho Department of Transportation - various frequencies (multiple fixed and portable Highway Advisory Radio Stations)
Idaho State University Pocatello and Idaho Falls - 1610AM (fixed Information Station)
Twin Falls, City of - 530AM (fixed Information Station)
US Department of Energy Environmental Science Foundation, Atomic City - 530AM (fixed Information Station)
RETURN TO TOP
ILLINOIS
Adams County - 1620AM (fixed or portable VoiceStar System)
Aurora, City of - 1650AM (fixed ALERT AM Station)
Bensenville, Village of - 1620AM (fixed Information Station)
Carbondale - 1620AM (fixed ALERT AM Station)
Carol Stream, Village of - 530AM (fixed ALERT AM Station)
Chicago Division of Transportation - 1650AM (fixed Information Station)
Chicago White Sox - 1620AM (fixed Information Station)
Effingham County - 1610AM (fixed or portable RoadRunnR Station)
Evanston, Town of - 1650AM (fixed Information Station)
Glen Ellyn, Village of - 1620AM (fixed Information Station)
Great Lakes Naval Station, North Chicago - 1610AM (RoadRunnR portable station)
Illinois and Michigan Canal National Heritage Corridor, National Park Service (NPS) - 530AM (fixed information Station)
Illinois Law Enforcement Alert System (ILEAS), Urbana - 1620, 1650, 1670AM (1 fixed or portable RadioSTAT Systems and signs)
Kankakee County - 1650AM (portable RESPONDER1 Station)
Lake County Division of Transportation - 1620AM (3 synchronized, fixed Highway Advisory Radio Stations)
Lincoln Highway Heritage Byway, Illinois Lincoln Highway Coalition - (fixed Information Station)
Lisle, Village of - 1660AM (fixed ALERT AM Station)
Maine Township - 1350AM (fixed or portable RadioSTAT Station)
Menard County Tourism Council - 1610AM (2 fixed Information Stations)
Midway International Airport - 1630AM (fixed Information Station; Flashing ALERT Signs)
Naperville, City of - 1610AM (2 fixed, synched Information Stations)
O'Hare International Airport, Chicago - 1630AM (fixed Information Station)
Palatine, Village of - 1660AM (fixed ALERT AM Station)
Peoria County Emergency Management Agency - 530AM (fixed Information Station)
Princeton, City of - 1610AM (fixed Information Station)
Rend Lake Visitor Center - 530AM (fixed Information Station)
Tinley Park Emergency Management Agency, Village of - 970AM (fixed Information Station)
Skokie, Village of - 1660AM (fixed ALERT AM Station)
RETURN TO TOP
INDIANA
Allen County - 1700AM (fixed or portable RadioSTAT IP Station)
Boone County Health Department - 1700AM (fixed or portable RadioSTAT Station)
Elkhart County - 1650 and 1700AM (2 fixed or portable RadioSTAT Stations)
Evansville Vanderburgh County Emergency Management Agency - 1620AM (fixed or portable RadioSTAT Station)
Fulton County - 1620AM (portable RadioSTAT Station)
Fort Wayne Allen County International Airport - 530AM (fixed Information Station)
Hamilton County Health Department - 1650AM (fixed or portable RadioSTAT Station)
Hancock County Health Department - 1610AM (fixed or portable RadioSTAT Station)
Hendricks County Health - 1670/40AM (fixed RadioSAFE System; fixed or portable RadioSTAT Station)
Historic Fort Wayne, City of - 1640AM (fixed Information Station)
Indiana Department of Transportation - 530 and 1610AM (fixed Highway Advisory Radio Stations)
Indiana District 5 Health - (See Boone, Hamilton, Hancock, Hendricks, Johnson, Marion, Morgan Counties listed individually.)
Indiana Dunes National Lakeshore - 530AM (fixed Information Station)
Indiana Purdue University - 1610AM (2 fixed Information Stations, EPPC978 and WPPH325/326)
Indiana University - 1610AM (3 synched fixed Information Stations)
Johnson County Health Department - 1850AM (fixed or portable RadioSTAT Station)
Lincoln Boyhood National Memorial, National Park Service - 1610AM (4 fixed Information Stations)
Lake County Convention and Visitors Bureau - 530AM (fixed Information Station)
Marion County Health Department - 1680AM (fixed or portable RadioSTAT Station)
Morgan County Health Department - 1700AM (fixed or portable RadioSTAT Station)
New Whiteland, Town of - 1610AM (fixed Information Station)
Porter Health Hospital, Village of - 1610AM (fixed or portable RadioSTAT Station)
Region 5 Health Departments - 1610, 1650, 1680 and 1700AM (8 RadioSTAT Stations)
Saint John, Town of - 1670AM (fixed ALERT AM Station)
Schererville, City of - 1630AM (fixed ALERT AM Station)
Shelby County Health Department - 1700AM (fixed or portable RadioSTAT Station)
RETURN TO TOP
IOWA
Arcola (City of) Chamber of Commerce, City of - 530AM (fixed Information Station)
Clarke County - 1610AM (fixed or portable RadioSTAT Station)
Clear Lake Area Chamber of Commerce - 1200AM (fixed Information Station)
Emmet County - 1620AM (fixed or portable RoadRunnR Station)
Herbert Hoover National Historic Site, National Park - 690AM (fixed Information Station)
Iowa Department of Natural Resources Okoboji Protective Association - 1640AM (fixed Information Station)
Iowa Department of Transportation - various frequencies (multiple fixed and portable Highway Advisory Radio Stations)
Mississippi Valley Welcome Center - 1610AM (fixed Information Station)
Saylorville Lake, US Army Corps of Engineers (USACE) - 1610AM (fixed Information Station)
Urbandale, City of - 1210AM (fixed Information Station with weather radio)
Wapello County Public Health - 1610AM (portable RadioSTAT Station)
Washington County - 1680AM (fixed or portable RadioSTAT Stations)
RETURN TO TOP
KANSAS
Clinton Lake, US Army Corps of Engineers - 1610AM (fixed Information Station)
Ford County - 1610, 1670 and 1680AM (3 fixed or portable RadioSTAT Stations)
Fort Leavenworth Army Base - 1610AM (fixed Information Station)
Kansas City Police Department - 1610AM (fixed Information Station)
Kansas Department of Transportation - (portable custom Highway Advisory Radio Station)
Kansas Turnpike Authority - 630AM (fixed Highway Advisory Radio Station)
Newton (City of) Chamber of Commerce - 1610AM (fixed Information Station)
Nicodemus National Historic Site, National Park Service (NPS) - 1610AM (fixed Information Station)
Robert Dole Veterans Administration Medical Center - 530AM (fixed or portable VoiceStar CMS Station)
Sedgwick County - 1670 and 1680AM (2 fixed or portable RadioSTAT Stations)
RETURN TO TOP
KENTUCKY
Anchorage, Town of - 1620AM (fixed Information Station with weather radio)
Anderson County Department of Public Safety - 1620AM (fixed ALERT AM Station)
Calvert City - 1610AM (fixed or portable VoiceStar Station)
Cumberland Falls State Park - 1610AM (fixed Information Station)
Elizabethtown Tourism and Convention Bureau - 530AM (fixed Information Station)
Lexington (City of) and Fayette County - 1620AM (5 fixed ALERT AM Stations)
Greater Cincinnati International Airport - 1610AM (fixed Information Station)
Hart County Chamber of Commerce - 1610AM (fixed Information Station)
Kentucky Transportation Cabinet, Louisville - 530AM (fixed Highway Advisory Radio Station)
Kentucky University (See University of Kentucky...)
Land Between the Lakes, US Department of Agriculture Forest Service (USDAFS) (USFS) - 1610AM (fixed Information Stations)
Louisville Jefferson County - 1610AM (fixed/mobile custom Station)
Murray State University, Murray - 1540AM (fixed Information Station)
Rock Castle County Tourism Commission - 530AM (fixed Information Station)
Shelby County - 1650 and 1700AM (2 portable stations)
University of Kentucky, Lexington - 1700AM (fixed Information Station)
Western Kentucky University, Bowling Green - 1610AM (fixed Information Station)
RETURN TO TOP
LOUISIANA
Baton Rouge, Rhodia Corporation/Southern University - 530AM (fixed Information Station)
Greater New Orleans Expressway, Lake Pontchartrain Bridge Causeway, Metairie, Mandeville - 1700AM (4 fixed ALERT AM Stations)
New Orleans International Airport - 530AM (fixed Information Station)
Port of New Orleans - 1630AM, 1650AM, 1660AM, 1670AM, 1690AM (6 fixed ALERT AM Stations)
Saint Bernard Parish - 660AM (fixed Information Station)
Saint Charles Parish - 1370AM (5 fixed, synchronized ALERT AM Stations, Flashing ALERT Signs)
RETURN TO TOP
MAINE
Acadia National Park, National Park Service - 1610AM (3 fixed Information Stations)
Lincoln County - 1620AM (fixed RadioSAFE RSF:500.10X Station)
Waldo County - 530AM (fixed RadioSAFE RSF:500.10X Station)
RETURN TO TOP
MARYLAND
Baltimore Washington International Airport - 1040AM (fixed Information Station)
Fort Detrick Army Base, Forest Glen Annex - 1610AM (2 fixed, synchronized ALERT AM Stations and Flashing ALERT Signs)
Health and Human Services Food and Drug Administration - 1610AM (fixed Information Station IP) Ocean City - 1670AM (fixed or portable RoadRunnR Station)
Maryland State Highway Administration - various frequencies (multiple fixed or portable Highway Advisory Radio Stations)
Monocacy National Battlefield, National Park Service (NPS) - (fixed Information Station)
Montgomery County Public Works - 590 and 1070AM (fixed Information Radion Stations)
Naval Surface Warfare Center, Indian Head - 1610AM (fixed Information Station)
Ocean City Emergency Management - various frequencies (portable RoadRunnR and RESPONDER1 Stations)
University of Maryland, Baltimore - 1620AM (fixed ALERT AM Station)
University of Maryland, Washington DC - 1640AM (fixed Information Station)
Washington County Emergency Management - 530AM (4 fixed Information Stations)
Worcester County - 1620 and 1640AM (2 fixed or portable VoiceStar Systems)
RETURN TO TOP
MASSACHUSETTS
Auburn, Town of - 1610AM (fixed or portable RadioSTAT Station)
Barnstable, Town of - 1640AM (fixed RadioSAFE System)
Brimfield, Town of - 1670AM (fixed or portable RadioSTAT Station)
Brockton Emergency Management, City of - 1620AM (fixed Information Station)
Gardner, City of - 1670AM (fixed or portable RadioSTAT Station)
Groton, Town of - 1670AM (fixed or portable RadioSTAT Station)
Holden, Town of - 1680AM (fixed or portable RadioSTAT Station)
Hull, Town of - 1680AM (fixed ALERT AM Station)
Lowell National Historic Park, National Park Service - 1610AM (fixed Information Station)
Massachusetts Department of Transportation - 1690AM (multiple fixed Highway Advisory Radio Stations)
Massachusetts Turnpike Authority - 1640AM (multiple fixed Highway Advisory Radio Stations)
Milford, Town of - 1670AM (fixed or portable RadioSTAT Station)
Natick, Town of - 1630AM (fixed ALERT AM Station; Flashing ALERT Sign)
New Bedford Whaling National Historic Park, National Park Service (NPS) - 1610kHz (fixed Information Station)
Northeast Homeland Security, Beverly - 530-1700AM (fixed or portable RoadRunnR Station)
Peabody, City of - 1640AM (fixed ALERT AM Station)
Sharon, Town of - 1630AM (custom components)
Sterling, Town of - 1670AM (fixed or portable RadioSTAT Station)
Southbridge, Town of - 1610AM (fixed or portable RadioSTAT Station)
Spencer, Town of - 1610AM (fixed or portable RadioSTAT Station)
Springfield Armory National Historic Site, National Park Service - 1710AM (fixed Information Station)
Westborough, Town of - 1610AM (fixed or portable RadioSTAT Station)
Westford, Town of - 1630AM (fixed ALERT AM Station)
Worcester County Public Health - 1610 and 1670AM (8 fixed or portable RadioSTAT Stations)
RETURN TO TOP
MICHIGAN
Allegan County - 1630AM (fixed or portable RadioSTAT Station)
Battle Creek, City of - 1610AM (3 fixed, synchronized ALERT AM Stations)
Big Sable Lighthouse, Ludington - (fixed Information Station)
Clinton Township - 1610AM (fixed ALERT AM Station)
Dearborn Heights, City of - 1690AM (fixed ALERT AM Station)
Detroit International Bridge (Ambassador) - 1610AM (fixed Information Station)
Detroit Metro Airport - 1620AM (fixed Information Station)
Farmington Hills, City of - 1650AM (fixed ALERT AM Station)
Ferris State University, Big Rapids - 530AM (fixed Information Station)
Grosse Ile Township - 1700AM (fixed ALERT AM Station)
Isabella County - 1610AM (fixed Information Station)
Keweenaw National Historic Park, National Park Service - 1610AM (fixed Information Station)
Lansing, City of - 530AM (fixed Information Station)
Livonia, City of - 1670AM (fixed ALERT AM Station)
Mackinac Bridge, Saint Ignace and Mackinac City - 1610 and 530AM (2 fixed Information Stations)
Michigan Department of Transportation (MDOT) - 530 and 1610AM (multiple fixed and portable Highway Advisory Radio Stations)
Newaygo County - 1630AM (fixed or portable RadioSTAT Station)
Nottwaseppi Huron Band of Potawatomi, Fulton - 1620AM (fixed ALERT AM Station)
Oakland County - 1640AM (fixed or portable VoiceStar Station)
Ottawa County - 1630AM (fixed or portable RadioSTAT IP Station)
Porcupine Mountains Wilderness State Park, Michigan Department of Natural Resources - 1610AM (fixed Information Station)
Riverview, City of - 1650AM (fixed ALERT AM Station)
Rochester Hills, City of - 1610AM (fixed ALERT AM Station)
Saint Clair County - 1620AM (portable Information Station)
Sleeping Bear Dunes Visitors Bureau, National Park Service (NPS) - 1610AM (fixed Information Station)
Sterling Heights, City of - 1700AM (fixed ALERT AM Station)
Southfield, City of - 1700AM (fixed ALERT AM Station)
Troy, City of - 1670AM (fixed ALERT AM Station)
Warre, City of - 1690AM (fixed ALERT AM Station)
Wayne, City of - 1620AM (fixed ALERT AM Station)
Wayne County Parks Department, Westland - 1640AM (fixed or portable RadioSTAT Station)
Westland, City of - 1700AM (fixed Information Station)
Wyandotte, City of - 1670AM (fixed ALERT AM Station)
RETURN TO TOP
MINNESOTA
Minneopa State Park, Minnesota Department of Natural Resources (MNDNR) - 1610AM (fixed Information Station)

Minnesota Department of Transportation MNDOT - various frequencies (multiple Portable Highway Advisory Radio Stations)

Moorhead, City of - 1610AM (fixed ALERT AM Station)
Northfield, City of - 1610AM (fixed Information Station)

Owatonna Zebra Mussel Station - 1610AM (fixed Information Station)

Pipestone National Monument, National Park Service (NPS) - 1610AM (fixed Information Station)
RETURN TO TOP
MISSISSIPPI
Columbus Air Force Base - 1610AM (fixed Information Station)
Natchez Trace National Scenic Trail, National Park Service (NPS) - 1610AM (fixed Information Station)
Oxford, Town of - 1630AM (fixed or portable RadioSTAT Station)
Stennis Space Center, National Aeronautics and Space Administration (NASA), Picayune - 1610AM (fixed ALERT AM Station)
Vicksburg National Military Park, National Park Service (NPS) - 1520AM (fixed Information Station)
RETURN TO TOP
MISSOURI
Independence, City of - 1680AM (fixed or portable RadioSTAT Station)
Kansas City International Airport/Police - 1610AM (fixed Information Station)
Ozark National Scenic Riverways, National Park Service - (3 fixed Information Stations)
RETURN TO TOP
MONTANA
Gallatin County - 1600/1700AM (3 fixed or portable RoadRunnR Stations)
Glacier National Park, National Park Service (NPS) - 1610AM (fixed or portable RadioSTAT Station)
Great Falls, City of - 1600AM (fixed Information Station)
Little Bighorn Battlefield, National Park Service (NPS) and Hardin Chamber of Commerce - 1610AM (fixed Information Station)
Montana State University, Bozeman - 1610AM (fixed Information Station and Flashing Beacon Sign Controller)
Nez Perce National Park Bear Paw Battlefield, National Park Service (NPS) - 1640AM (fixed Information Station and Signs)
RETURN TO TOP
NEBRASKA
Douglas County Emergency Management - 1670AM (portable RadioSTAT)
Fort Niobrara National Wildlife Refuge, National Park Service (NPS) - 1610AM (fixed Information Station)
Gavin's Point Dam, US Army Corps of Engineers (USACOE) - 1610AM (fixed Information Station)
Grand Island, City of - 530AM (fixed Information Station)
Great Platte River Road Archway Monument, Kearney, City of - 1610AM (fixed Information Station)
Homestead National Monument of America, National Park Service (NPS) - 1610AM (2 fixed Information Stations)
South Sioux City - 1680AM (fixed or portable RadioSTAT Station)
RETURN TO TOP
NEVADA
Carson City - 530AM (fixed Information Station)
McCarran International Airport, Las Vegas - 530AM (fixed Information Station)
Nevada Northern Railway Museum, Ely - 1610AM (fixed Information Station)
Red Rock Canyon National Conservation Area - 1610AM (fixed Information Station)
Reno Tahoe International Airport - 1610AM (fixed Information Station)
University of Nevada, Reno - 1670AM (fixed Information Station with ENcast)
Washoe County - 1150AM (3 fixed or portable VoiceStar Stations, 1 fixed or portable RoadRunnR, 3 FASTrack signs)
RETURN TO TOP
NEW HAMPSHIRE
Derry, Town of - 1610AM (3 fixed ALERT AM Stations)
Great Bay Estuary, University of New Hampshire Sea Grant - 1610AM (fixed Information Station)
Gunstock Ski Area, Belknap County, National Park Service (NPS) - 1610AM (fixed Information Station)
New Hampshire Department of Transportation - various frequencies (2 fixed Highway Advisory Radio Stations)
New Hampshire Fish and Game Department - 1610AM (fixed Information Station)
Pittsfield, Town of - 1640AM (fixed or portable RadioSTAT)
White Mountain National Forest, US Forest Services (USFS) - 1610AM (fixed Information Station)
RETURN TO TOP
NEW JERSEY
Atlantic Highlands Borough - 1690AM (fixed Information Station)
Avalon Borough - 1630AM (fixed ALERT AM Station; 7 Flashing ALERT Signs)
Bernards Township - 1620AM (fixed ALERT AM Station)
Bernardsville Borough - 1640AM (fixed Information Station)
Brigantine Beach, City of - 1640AM (fixed ALERT AM Station)
Burlington County - 1620, 1650 and 1700AM (2 fixed or portable RESPONDER1 Stations with FASTrack Signs)
Cinnaminson Township - 1620AM (fixed ALERT AM Station)
Clark Township - 1700AM (fixed ALERT AM Station)
Clifton, City of - 1630AM (fixed ALERT AM Station)
Cranford Township - 680AM (fixed ALERT AM Station)
Edison Township - 1620AM (fixed Information Station)
Fort Dix Air Force Base (See Joint McGuire Dix Lakehurst Air Force Base.)
Fort Lee Borough - 1630AM (fixed ALERT AM Station)
Gladstone/Peapack Borough - 1610AM (fixed ALERT AM Station)
Harvey Cedars Borough - 1650 and 1610AM (fixed Information Station and portable RESPONDER1 Station)
Hillsborough Township - 1610AM (fixed ALERT AM Station)
Hudson County - 1710AM (fixed ALERT AM Station)
Joint McGuire Dix Lakehurst Air Force Base - 1650AM (2 fixed synchronized ALERT AM SuperStations, 11 Flashing ALERT Signs & Flashing Beacons)
Kenilworth Borough (See Union Township...)
Lakehurst Air Force Base (See Joint McGuire Dix Lakehurst Air Force Base.)
Long Branch, City of - 1620AM (fixed ALERT AM Station; Flashing ALERT Signs)
Lyndhurst Township - 1700AM (fixed ALERT AM Station)
Madison Borough - 1630AM (fixed ALERT AM Station)
Manasquan Borough - 1620AM (fixed Information Station and fixed ALERT AM System; 4 Flashing ALERT Signs)
Mantoloking Borough - 1670AM (fixed or portable RadioSTAT Station)
Manville Borough - 1700AM (fixed ALERT AM Station)
McGuire Air Force Base (See Joint McGuire Dix Lakehurst Air Force Base.)
Metuchen Borough - 1580AM (fixed ALERT AM Station)
Middlesex Borough - 1640AM (fixed ALERT AM Station)
Middletown Township - 1620AM (fixed Information Station)
Millville, City of - 530AM (fixed Information Station components)
Monmouth Beach, City of - 1640AM (fixed Information Station)
North Arlington Borough - 1620AM (fixed Information Station)
North Plainfield Borough - 1630AM (fixed Information Station)
North Wildwood, City of - 1640AM (fixed ALERT AM Station)
Nutley Township - 1690AM (fixed ALERT AM Station)
Ocean City - 1620AM (fixed ALERT AM Station)
Oceanport Borough - 1610AM (fixed ALERT AM Station)
Oradell Borough - 1690AM (fixed ALERT AM Station)
Peapack Borough (See Gladstone/Peapack...)
Pequannock Township - 1620AM (fixed ALERT AM Station)
Point Pleasant Borough - 1630AM (fixed Information Station; 2 Flashing ALERT Signs)
Port Authority of New York and New Jersey, Newark - 1630 and 1700AM (2 fixed Information Station, 16 Flashing ALERT Signs)
Rahway, City of - 550AM (fixed Information Station IP)
Red Bank Borough - 1700AM (fixed ALERT AM Station)
Roselle Borough - 1640AM (fixed ALERT AM Station)
Roselle Park Borough - 750AM (fixed Information Station)
Rumson Borough - 1630AM (fixed Information Station)
Scotch Plains Township - 530AM (fixed ALERT AM Station)
Spring Lake Borough - 1640AM (fixed ALERT AM Station)
South Brunswick Township - 1640AM (fixed or portable RESPONDER1 Station)
Stone Harbor Borough - 1670AM (fixed ALERT AM Station)
Tuckerton Borough - 1670AM (fixed ALERT AM Station; 2 Flashing ALERT Signs)
Union Beach Borough - 1610AM (fixed Information Station)
Union Township, Kenilworth Borough - 1620AM (fixed or portable RadioSTAT Station)
Vineland, City of - 1630AM (fixed or portable RadioSTAT Station)
Warren Township - 680AM (fixed ALERT AM Station)
Watchung Borough - 1610AM (fixed Information Station)
Wayne Township - 1690AM (fixed ALERT AM Station)
Westfield, Town of - 1690AM (fixed ALERT AM Station)
Wharton Borough - 1620AM (fixed ALERT AM Station)
Wrightstown (See McGuire Air Force Base.)
RETURN TO TOP
NEW MEXICO
Bandelier National Monument, National Park Service (NPS) - 1710AM (fixed Information Station)
Bernalillo County - 1670AM (2 fixed or portable RadioSTAT Stations)
Capulin Volcano National Monument, National Park Service (NPS) - 1610AM (fixed Information Station)
Chaco Canyon National Historic Park, National Park Service (NPS) - 1610AM (fixed Information Station)
DeBaca County Regional Emergency Communications Center, Fort Sumner - 1610AM (fixed or portable VoiceStar Station)
Los Alamos County - 1610AM (2 fixed ALERT AM Stations; 4 Flashing ALERT Signs)
Mesalands Community College, Tucumcari - 1670AM (fixed Information Station)
Otero County - 1610AM (fixed or portable VoiceStar Station with changeable message sign)
Pecos National Historical Park, National Park Service (NPS) - 1610AM (fixed Information Station)
Salinas Pueblo Missions National Monument, National Park Service (NPS) - 1710AM (fixed Information Station)
San Miguel County - 1670AM (3 fixed ALERT AM Station); 1640 and 1680AM (RoadRunnR portable station)
White Sands National Monument, National Park Service (NPS) - 1610AM (fixed Information Station)
RETURN TO TOP
NEW YORK
Albany Medical Center - 1630AM (fixed Information Station)
Buffalo Niagara International Airport - 1620AM (fixed Information Station)
Buffalo Peace Bridge - 1630AM (fixed Information Station)
Cooperstown Chamber of Commerce - 1610AM (fixed Information Station)
Freeport Village - 1690AM (fixed ALERT AM Station; 4 Flashing ALERT Signs)
Hastings on Hudson Village - 1620AM (fixed ALERT AM Station)
Malverne and Valley Stream, Villages of - 1620AM (fixed ALERT AM Station)
Metropolitan Transportation Authority Verrazano Narrow Bridge - 1700AM (RadioSTAT Station)
Montezuma National Wildlife Refuge, US Fish and Wildlife Service (USFWS) - 1610AM (fixed Information Station)
New York State Department of Transportation - various frequencies (multiple fixed and portable Highway Advisory Radio Stations)
New York State Thruway - various frequencies (multiple fixed Highway Advisory Radio Stations)
New York State University, Buffalo - 1620AM (fixed Information Station)
Niagara Falls Tourism - 1200 and 1620AM (fixed Information Stations)
Robert F Kennedy Bridge (See Triborough Bridge...)
Tonawanda City School District - 1670AM (fixed Information Station)
Triborough Bridge Authority, NYC - 1700AM (fixed or portable RadioSTAT Station)
Valley Stream (See Malverne and Valley Stream...)
Westchester County Convention and Visitors Bureau - 1610AM (fixed Information Radio Stations)
Westchester County Office of Emergency Management - 1610AM (2 fixed or portable VoiceStar Stations)
Westchester County Airport, White Plains - 1700AM (fixed Information Station)
RETURN TO TOP
NORTH CAROLINA
Beech Mountain, Town of - 1620AM (fixed Information Station)
Blue Ridge Parkway, National Park Service (NPS) - 1610AM (fixed Information Station)
Camp Lejeune Military Base - 1610AM (custom Station)
Fort Bragg Army Base - 1700AM (fixed ALERT AM Station)
Manteo, Town of - 1620AM (fixed Information Station)
Surf City, Town of - 1670AM (fixed RadioSAFE System)
New River Air Station, US Marine Corps - 1630AM (portable RadioSTAT Station)
RETURN TO TOP
NORTH DAKOTA
Cass County Historical Society - 530AM (fixed Information Station)
Devil's Lake, North Dakota Department of Transportation - 530AM (fixed Information Station)
Dickey County - 1610AM (fixed ALERT AM Station)
Garrison Dam, US Army Corps of Engineers (USACOE) - 530AM (
Grand Forks Air Force Base - 1620AM (fixed ALERT AM Station)
North Dakota Department of Health Emergency Reponse - 1620AM (2 fixed or portable RadioSTAT Stations)
North Dakota Department of Transportation (NDDOT) - various frequencies (fixed and portable Highway Advisory Radio Stations)
North Dakota State Emergency Services - 1610 and 1700AM (3 fixed or portable RadioSTAT Stations)
Theodore Roosevelt National Park, National Park Service (NPS) - 1610AM (fixed Information Station)
RETURN TO TOP
OHIO
Allen County - 1610AM (fixed or portable RadioSTAT Station)
Ashtabula, City of - 1620AM (fixed or portable RadioSTAT Station)
Athens County - 1610AM (fixed or portable RadioSTAT Station)
Brunswick, City of - 1700AM (2 fixed, synched fixed ALERT AM Stations)
Canton (City of) and Stark County Convention and Visitors Bureau - 530AM (fixed Information Station)
Cincinnati International Airport (See Greater Cincinnati International Airport in Kentucky.)
Columbus, City of - 1650AM (portable mobile incident command Station)
Columbus Airport (See Port Columbus...)
Cuyahoga Falls, City of - 1650AM (fixed ALERT AM Station)
Cuyahoga Valley National Park, National Park Service (NPS) - 1610AM (fixed Information Station)
Dayton (City of) and Montgomery County Chamber of Commerce - 530 and 1620AM (fixed Information Stations)
Delaware County - 1670AM (fixed or portable RadioSTAT Station)
Dublin, City of - 1610AM (fixed Information Station)
Findlay, City of - 1650AM (fixed or portable RadioSTAT IP Station)
Harrison Township Fire Department, Kettering (City of) - 1620 and 1660AM (fixed Information Stations)
Hilliard, Village of - 530AM (fixed Information Station)
Hocking Hills State Park, Ohio Department of Natural Resources - 1620AM (fixed Information Station)
Kent, City of - 1620AM (fixed Information Station)
Kenton County Airport (See Greater Cincinnati International Airport in Kentucky.)
Lorain County Visitor Bureau - 1610AM (fixed Information Station)
Magee Marsh, Ohio Department of Natural Resources - 1610AM (fixed Information Station)
Marysville, City of - 1650AM (2 fixed ALERT AM Stations)
Mayfield Heights, City of - 1700AM (fixed ALERT AM Station)
Mentor, City of - 1620AM (fixed ALERT AM Station)
Montgomery County (See Dayton...)
Ohio Department of Transportation (ODOT) - various frequencies (multiple fixed or portable RoadRunnR Stations)
Ohio State University, Columbus - 1650AM (fixed ALERT AM Station)
Piqua Historic Area, Ohio Historical Society - 530AM (fixed Information Station)
Port Columbus Airport, Columbus - 1640AM (fixed Information Station)
Salem Tourism Advisory Board, City of - 1610AM (fixed custom Information Station)
Sandusky County Convention and Visitor Bureau - 530AM (fixed Information Station)
Stark County (See Canton...)
Strongsville, City of - 1640AM (fixed ALERT AM Station; 14 Flashing ALERT Signs)
Toledo (City of) Chamber of Commerce - 1610AM (fixed Information Station)
Union County - 1620AM (fixed or portable RadioSTAT Station)
West Alexandria, Village of (with Rohm and Haas, Inc) - 1610AM (fixed ALERT AM Station)
Wooster, City of - 1610AM (fixed ALERT AM Station)
Wright Patterson Air Force Base, Dayton (City of) - 1630AM (fixed Information Station)
RETURN TO TOP
OKLAHOMA
Altus Air Force Base - 1610AM (fixed ALERT AM Station)
Arbuckle Mountains Tourism, Davis - 1610 and 1670AM (2 fixed Information Stations)
Great Salt Plains Lake in Cherokee, Alfalfa County/Oklahoma State University Extension - 1610AM (fixed ALERT AM Station)
Joplin, City of - 530AM (fixed Information Station)
Oklahoma City - 530AM (fixed Information Station)
Oklahoma Department of Transportation (ODOT) - 530 and 1610AM (multiple fixed and portable Highway Advisory Radio Stations)
US Fish and Wildlife Service, Miami - 1610AM (fixed Information Station)
Vance Air Force Base - 1610AM (fixed Information Station)
RETURN TO TOP
OREGON
Ashland, City of- 1700AM (fixed ALERT AM Station)
Astoria, City of - 530AM (fixed Information Station)
Baker County - 530AM (fixed Information Station components)
Beaverton, City of - 1620AM (fixed ALERT AM Station)
Brookings, City of - 1650AM (fixed or portable RadioSTAT Station)
Crater Lake National Park, National Park Service (NPS) - 1610AM (2 fixed Information Stations)
Estacada, City of - 1680AM (fixed or portable RadioSTAT IP Station)
Gold Beach, City of - 530AM (fixed Information Station)
Gresham, City of - 1610AM (fixed ALERT AM Station)
Happy Valley, City of - 1700AM (fixed or portable RadioSTAT Station)
Hermiston (See Umatilla...)
Mount Hood National Forest, US Department of Agriculture Forest Service (USDAFS) - 1610AM (fixed Information Station)
Oregon Caves National Monument, National Park Service (NPS) - 1610AM (fixed Information Station)
Oregon Department of Fish and Wildlife - 530 and 1610AM (fixed Information Stations)
Oregon Department of Forestry - 530AM (fixed Information Station)
Oregon State Marine Board - 1610AM (fixed Information Station)
Oregon State University Extension - 1610AM (2 fixed Information Stations)
Port of Portland International Airport - 530AM (fixed Information Station)
Sandy, City of - 1660AM (fixed or portable RadioSTAT IP Station)
Umatilla Weapons Depot, Hermiston - 1600AM (RoadRunnR portable station)
US Coast Guard (USCG) - 1610AM (6 fixed ALERT AM and Information Stations and Flashing ALERT Signs)
Williamette National Forest, US Department of Agriculture Forest Service (USDAFS) - 1610AM (fixed Information Station)
RETURN TO TOP
PENNSYLVANIA
Allegheny Portage Railroad National Historic Site, National Park Service (NPS) - 1610AM (2 fixed Information Stations)
Avon Grove Regional Emergency Management - 1670AM (fixed Information Station)
Bucks County - 1650AM (7 fixed or portable RadioSTAT Stations)
Delaware County - 1620 and 1640AM (4 fixed or portable VoiceStar Systems)
Delaware Water Gap National Recreation Area, National Park Service (NPS) - 1610 AM (fixed Information Station)
Etna Borough - 1670AM (fixed ALERT AM Station)
Flight 93 National Memorial, National Park Service (NPS) - 1710AM (2 fixed Information Stations)
Fort Necessity National Battlefield, National Park Service (NPS) - 1610AM (fixed Information Station)
Harrisburg Area Community College - 1700AM (fixed ALERT AM Station)
Hermitage, City of - 1610AM (fixed ALERT AM Station)
John Heinz Wldlife Refuge, US Fish and Wildlife Service (USFWS) - 1670AM (fixed Information Station)
Johnstown Flood National Memorial, National Park Service (NPS) - 1610AM (fixed Information Station)
Matamoras Borough - 1630AM (fixed ALERT AM Station)
Middle Creek Wildlife Management Area, Pennsylvania Game Commission - 1620AM (fixed Information Station)
Penn's Landing, Philadelphia (City of) - 1700AM (fixed Information Station)
Pennsylvania Department of Transportation (PennDOT) - various frequencies (multiple fixed and portable Information Stations)
Pennsylvania Turnpike Commission - various frequencies (multiple fixed Information Station)
Pocono Mountains Vacation Bureau - 1610AM (fixed Information Station)
Presque Isle State Park - 1480AM (fixed Information Station)
Quakertown Borough - 1620AM (fixed Information Station IP)
Tionesta, Town of - 1610AM (fixed ALERT AM Station)
Upper Delaware National Scenic River, National Park Service (NPS) - 1610AM (2 fixed Information Stations)
Valley Forge National Historical Park, National Park Service (NPS) - 1610AM (fixed Information Station)
Wilkes Barre, City of - 1620AM (fixed Information Station)

Winslow Hill Elk Viewing Area, Pennsylvania Game Commission - 1620AM (fixed Information Station)
RETURN TO TOP
PUERTO RICO
El Yunque National Forest, US Department of Agriculture Forest Service (USDAFS) - 1710 AM (fixed Information Station)
RETURN TO TOP
RHODE ISLAND
Blackstone Valley National Historic Corridor, National Park Service (NPS) - 1140AM (4 fixed Information Stations)
RETURN TO TOP
SOUTH CAROLINA
Folly Beach, Town of - 1610AM (fixed ALERT AM Station)
Fort Jackson Army Base, Columbia - 1650AM (fixed ALERT AM Station)
Francis Marion National Forest, US Department of Agriculture Forest Services (USDAFW) - 1610AM (fixed Information Station)
Francis Marion University - 1610AM (fixed Information Station)
Orangeburg County - 1610-1660AM (12 fixed RadioSAFE Stations)
Richland County - 1620AM (fixed or portable VoiceStar System)
RETURN TO TOP
SOUTH DAKOTA
Crazy Horse Memorial Foundation, State of South Dakota - 1610AM (fixed Information Station)
South Dakota, State of - 1610/1620AM (2 fixed or portable RoadRunnR Stations)
Wind Cave National Park, National Park Service (NPS) - 1600 kHz (fixed Information Station)
RETURN TO TOP
TENNESSEE
Brentwood, City of - 1610AM (fixed Information Station)
Fort Donelson National Battlefield, National Park Service (NPS) - 1610AM (4 fixed Information Stations)
Gatlinburg (City of) and Sevier County - 1680AM (3 ALERT AM Stations)
Lawrence County Chamber of Commerce - 1610AM (fixed Information Station)
Maury County Convention and Visitors Bureau/Rippavilla Plantation Historic Site, Spring Hill - 1610AM (fixed Information Station)
Memphis Shelby County International Airport Authority - 1690AM (custom Station)
Nashville International Airport - 1610AM (fixed Information Station)
Natchez Trace National Scenic Trail, National Park Service (NPS) - 1610AM (multiple Information Stations)
Putnam County - 1610AM (4 synchronized, fixed ALERT AM Stations)
Rippaville (See Maury County...)
Sevier County (See Gatlinburg...)
Shelby County Health Department - 1670AM (portable RadioSTAT Station)
Tennessee Department of Health - 1670 and 1640AM (2 portable RadioSTAT Stations)
Tennessee Department of Transportation - 530AM (fixed Highway Advisory Radio Station)
Tullahoma, City of - 1610AM (fixed Information Station)
Williamson County Office of Public Safety - 1620AM (portable RadioSTAT Station)
RETURN TO TOP
TEXAS
Austin, City of - 1680 and 1690AM (2 trailer-mounted RadioSTAT Stations; 1 fixed Information Station)
Baytown, City of - 1610AM (5 fixed Information Stations)
Big Bend National Park, National Park Service (NPS) - 1610AM (fixed customer Information Station)
Big Spring (City of) Convention and Visitors Bureau - 1180AM (fixed Information Station)
Brazos County - 1670AM (2 fixed ALERT AM Stations)
Brownsville, US Customs and Border Patrol (CBP) - 1610AM (fixed Information Station)
Bryan, City of - 1650AM (fixed ALERT AM Station)
Cleburne, City of - 1670AM (fixed ALERT AM Station)
Coastal Bend Regional Advisory Council (City of) - 1680AM (fixed or portable RadioSTAT Station and FASTrack signs)
College Station, City of - 1690AM (2 fixed ALERT AM Stations)
Corpus Christi, City of - 620AM (custom ALERT AM Station)
Deer Park, City of - 530AM (fixed custom ALERT AM Station; 12 Flashing ALERT Signs)
Dow Chemical, Brazosport Community Awareness and Emergency Response Agency, Freeport (City of) - 1610AM (6 fixed, synchronized ALERT AM Stations; 4 Flashing ALERT Signs)
Duncanville, City of - 1250AM (fixed Information Station)
El Paso (City of), US Customs and Border Patrol (CBP) - 530AM (2 fixed Information Stations)
Equistar/Lyondell Chemical Company, Channelview (City of) - 1640AM (fixed Information Station)
Fairfield, City of - 1610AM (fixed ALERT AM Station)
Farmers Branch, City of - 1670AM (fixed Information Station)
Fort Bend County - 1670AM for fixed Stations; 1680/1690AM for portables (10 fixed, synchronized ALERT AM Stations; 2 portable stations; 3 Flashing ALERT Signs)
Fort Stockton, City of - 1610AM (fixed Information Station)
Freeport, City of (See Dow Chemical...)
Freer, City of - 1610AM (fixed Information Station)
Friendswood, City of - 1650AM (fixed Information Station)
Galena Park, City of - 1630AM (fixed Information Station)
Galveston County - 1290AM (fixed Information Station)
Haslet, City of - 1650AM (fixed ALERT AM Station)
Houston Airport System, City of - 530 and 1610AM (fixed Information Stations)
Houston (City of) Rhone Poulenc Basic Chemicals - 1290AM (fixed Information Station)
Keller (City of) Fire Rescue - 1650AM (fixed ALERT AM System)
Kenedy County/Kleberg County Emergency Management - 1610AM (fixed custom Information Station)
Kingsville (City of) Convention and Visitors Bureau - 1610AM (fixed Information Station)
Lago Vista, City of - 1670AM (fixed Information Station)
La Porte, City of - 830AM (fixed Information Station; 6 Flashing ALERT Signs)
Laredo (City of), US Customs and Border Patrol (CBP) - 1610AM (fixed Information Station)
Lewisville (City of) - 1650AM (fixed Information Station)
Lower Colorado River Authority - 1610 and 1670AM (6 fixed Stations)
Lyndon B Johnson National Historic Park, National Park Service (NPS) - 1610AM (fixed Information Station)
Missouri City - 1690AM (fixed ALERT AM Station)
Murphy, City of - 1670AM (fixed ALERT AM Station)
Navarro County - 1610 and 1680AM (1 RESPONDER1 portable station with 4 FASTrack portable signs)
Palo Alto Battlefield National Historic Site Padre Island National Seashore, National Park Service (NPS) - 1610AM (fixed Information Station)
Pasadena, City of - 830AM (2 fixed custom ALERT AM Stations)
Pearland (City of) Office of Emergency Management - 670AM (fixed Information Station)
Pecos (City of) Area Chamber of Commerce - 1610AM (fixed Information Station)
Presidio (City of) Convention and Visitors Bureau - 530AM (fixed Information Station)
Rockport, City of - 1610AM (fixed ALERT AM Station)
Royse City - 1380AM (fixed ALERT AM Station)
San Jacinto Battleground State Historic Site - 770AM (custom Information Station)
Santa Ana National Wildlife Refuge, US Fish and Wildlife Service (USFWS) - 530AM (4 fixed Information Stations)
South Padre Island, Town of - 1620AM (fixed ALERT AM Station)
Southlake (City of) Department of Public Safety - 790AM (fixed ALERT AM Station)
Southwest Texas Regional Advisory Council near San Antonio - 1630 and 1640AM (2 fixed or portable RadioSTAT Stations)
Stafford, City of - 1160AM (fixed ALERT AM Station; 2 Flashing ALERT Signs)
Sugar Land, City of - 1650AM (fixed ALERT AM Station)
Temple, City of - 1640AM (2 fixed ALERT AM Stations)
Texas Department of Transportation (TxDOT) - various frequencies (multiple fixed and portable Highway Advisory Radio Stations)
Texas Tech University, Lubbock (City of) - 1610AM (fixed ALERT AM Station)
VanHorn (Town of) Convention and Visitors Bureau - 1610AM (fixed custom Information Station)
Victoria, City of - 1580AM (fixed Information Station)
Watauga, City of - 1670AM (fixed Information Station)
Webster (City of) Police Department - 1610AM (fixed Information Station components)
Wheeler National Wildlife Refuge, US Fish and Wildlife Service (USFWS) - 1520AM (fixed Information Station)
Williamson County and Cities Health District, Georgetown (City of) - 1610, 1640, 1670, 1690AM (4 fixed or portable RadioSTAT Stations)
RETURN TO TOP
UTAH
Box Elder County - 1610, 1620, 1660, 1670, 1680 and 1690AM (6 fixed RadioSAFE Systems and 1 portable RadioSTAT Station)
Bureau of Land Management (BLM), Salt Lake City - 1620AM (fixed or portable RadioSTAT Station)
Cedar Mountain Fire District - 1610 (fixed or portable RadioSTAT Station)
Davis County - 530 and 1700AM (fixed Information Station and custom-built Station)
Farmington Bay Wildlife Area, Utah Department of Natural Resources - various frequencies (multiple fixed and portable Information Stations)
Fish Lake National Forest, US Department of Agriculture Forest Service (USDAFS) - 1610AM (fixed Information Station)
Huntington Eccles Canyons Scenic Byway, Carbon County - 1610AM (2 fixed Information Stations)
Iron County - 1610AM (fixed or portable RadioSTAT Station)
Millard County - 1610AM (fixed or portable RadioSTAT Station)
Murray, City of - 760AM (fixed Information Station)
North Fork Fire Department, Sundance (City of) - 530AM (fixed Information Station)
Provo, City of - 1260AM (fixed Information Station)
Salt Lake City Airport - 1200AM (fixed Information Station, custom)
Utah Department of Transportation (UDOT) - various frequencies (multiple fixed and portable Highway Advisory Radio Stations)
West Point, City of - 1580AM (fixed ALERT AM Station)
Winter Olympics - 1300 and 1530AM - (7 fixed Information Stations; 2 RoadRunnR Portable Highway Advisory Radio Stations and Flashing Beacons for Signs)
Zion National Park, National Park Service (NPS) - (4 fixed Informaton Stations)
RETURN TO TOP
VERMONT
Missisquoi National Wildlife Refuge, US Fish and Wildlife Service (USFWS) - (fixed Information Station)
RETURN TO TOP
VIRGINIA
Arlington House Robert E Lee Memorial Clara Barton Thomas Stone, National Park Service (NPS) - 1610AM (fixed custom Information Station)
Assateague Island National Seashore, National Park Service (NPS) - 1610AM (fixed Information Station)
Augusta (City of) Chamber of Commerce - 1620AM (fixed Informations Stations)
Blackstone, Town of - 1610AM (fixed ALERT AM Station)
Blue Ridge Parkway, National Park Service (NPS) - 1610AM (fixed Information Station)
Booker T Washington National Monument, National Park Service (NPS) - (fixed Information Station)
Central Intelligence Agency (CIA), Herndon and McLean - 1640AM (2 fixed Information Stations, custom)
Central Intelligence Agency (CIA), Camp Peary - 530AM (fixed Information Station)
Chesterfield County - 1630 and 1670AM (7 fixed, synchronized ALERT AM Stations; 5 Flashing ALERT Signs; portable RESPONDER1 Station)
Chincoteague National Wildlife Refuge, US Fish and Wildlife Service (USFWS) - 1610AM (fixed Information Station)
Chincoteague, Town of - 530AM (fixed Information Station)
Colonial National Historical Park, National Park Service (NPS) - 1610AM (fixed Information Station)
Eastern Shore National Wildlife Refuge, US Fish and Wildlife Service (USFWS) - 1610AM (fixed Information Station)
Fairfax, City of - 1650AM (fixed ALERT AM Station)
Fairfax County Department of Transportation - 1670AM (9 fixed Information Stations)
Fort Belvoir Army Base - 1610AM (fixed ALERT AM Station)
Goochland County - 1610AM (7 fixed, synchronized ALERT AM Stations; 12 Flashing ALERT Signs)
Hanover County - 1700AM (7 fixed, synchronized ALERT AM Stations; 11 Flashing ALERT Signs)
James Madison University, Harrisonburg - 1610AM (fixed Information Station)
New Market Battlefield State Historical Park, Virginia Military Institute - 1610AM (custom Information Station)
Norfolk International Airport - 530AM (fixed Information Station)
Pendleton Coles House, Virginia Military Institute - (fixed Information Station)
Prince William Forest Park, National Park Service (NPS) - 1610AM (fixed Information Station)
Reagan National Airport - 1640AM (fixed Information Station IP)
Shenandoah National Park, National Park Service (NPS) - 1610AM (fixed Information Station)
Spotsylvania National Military Battlefied Memorial, National Park Service (NPS) - 1610AM (fixed Information Station)
Virginia Beach, City of - 1680AM (fixed Information Station)
Virginia Department of Transportation - various frequencies (multiple fixed and portable Highway Advisory Radio Stations)
Virginia Museum of the Civil War, Shenandoah Valley - 1610AM (fixed Information Station)
RETURN TO TOP
WASHINGTON
Auburn, City of - 1700AM (fixed ALERT AM Station)
Bellevue, City of - 1270AM (RoadRunnR portable station)
Burien, City of - 540AM (fixed or portable RadioSTAT Station)
Camas, City of - 1670AM (fixed ALERT AM Station)
Chief Joseph Dam, US Army Corps of Engineers (USACOE) - 1610AM (fixed Information Station)
Chinook, City of - 1610AM (fixed Information Station and 2 Static Signs)
Clyde Hills, City of - 1660AM (fixed or portable VoiceStar Station)
Cowlitz County - 1700AM (fixed Information Station for Weyerhaeuser, Inc.)
Ebeys Landing National Historic Reserve, National Park Service (NPS) - 1610AM (fixed Information Station)
Enumclaw, City of - 1650AM (fixed Information Station IP)
Federal Way, City of - 900AM (RESPONDER1 mobile Station)
Fort Lewis Army Base (See Joint Fort Lewis/McChord...)
Garfield County - 1610AM (fixed Information Station)
Hanford Nuclear Power Facility, Pasco - 530AM (4 fixed, synchronized ALERT AM Stations, custom)
Issaquah, City of - 1700AM (fixed ALERT AM Station)
Joint Fort Lewis/McChord Air Force Base - 1710AM (fixed ALERT AM Station)
Kent, City of - 1650AM (fixed Information Station)
King County - 590 and 1610AM (multiple fixed or portable VoiceStar Stations)
Kitsap Naval Base - 1610 (2 fixed ALERT AM Stations)
Lynden, City of - 530AM (fixed Information Station)
Makah Tribe - 1610 and 1650AM (2 fixed or portable RadioSTAT Stations)
Moses Lake, Town of - 530AM (2 fixed Information Stations)
Mount Rainier National Park, National Park Service (NPS) - (8 fixed Information Stations)
Mount Vernon (City of) Skagit County - 1630AM (fixed ALERT AM Station)
Okanogan National Forest, US Forest Service (USFS) - 530AM (fixed Information Station)
Olympic National Park and Forest, National Park Service (NPS) - 530 and 1610AM (4 fixed Information Stations)
Othello, City of - 1610AM (fixed Information Station)
Pasco, City of (See Hanford Nuclear Power Facility...)
Peace Arch Memorial, Immigration and Naturalization Service - 1610AM (fixed Information Station)
Pierce County - 1610AM (portable VoiceStar Station)
Port Angeles, City of - 1610AM (fixed Information Station)
Puyallup and Pierce County - 1580AM (3 fixed ALERT AM Stations)
Redmond, City of - 1650AM (fixed ALERT AM Station)
Ritzville, City of - 530AM (fixed Information Station)
Sammamish, City of - 540AM (2 fixed ALERT AM Stations)
Skagit County (See Mount Vernon...)
Snohomish County - 600AM (fixed or portable VoiceStar System)
Snoqualmie, City of - 1650AM (fixed ALERT AM Station)
Spokane International Airport - 1610AM (fixed Information Station)
Sudden Valley Radio Club, South Whatcom Fire Authority - 1610AM (fixed Information Station)
Tacoma, City of - 1610AM (2 fixed Information Stations)
Toppenish, Town of - 1610AM (fixed Information Station)
Tukwila, City of - 1640AM (fixed ALERT AM Station)
US Army Corps of Engineers (See Chief Joseph Dam...)
US Coast Guard (USCG) - 1610AM (3 fixed Information Stations and Flashing ALERT Signs)
Voice of Vashon, Vashon Island (City of) - 1650AM (3 fixed, synchronized Information Stations)
Washington State Department of Transportation (WSDOT) - various frequencies (multiple fixed and portable Highway Advisory Radio Stations)
Washington State Ferries - various frequencies (multiple fixed and portable Highway Advisory Radio Stations)
Wenatchee National Forest, US Forest Service - 1610 and 530AM (3 fixed Information Stations)
Woodinville, City of - 1610AM (fixed Information Station)
RETURN TO TOP
WEST VIRGINIA
Barbour County - 1610AM (fixed or portable RadioSTAT Station)
Bridgeport, City of - 1620AM (3 fixed Information Stations)
Gilmer County - 1610AM (fixed or portable RadioSTAT Station)
Hancock County - 1620AM (fixed Information Station)
Jackson County - 1620AM (2 fixed or portable RadioSTAT Stations and Signs)
Lewis County - 1610AM (2 fixed or portable RadioSTAT Stations)
Monongalia County - 1610AM (2 fixed or portable RadioSTAT Stations)
Monongahela National Forest, US Forest Services (USFS) - 1610AM (fixed Information Station)
Pendleton County - 1610AM (fixed or portable RadioSTAT Station)
Randolph County - 1610AM (fixed or portable RadioSTAT Station)
Tucker County - 1610AM (2 fixed or portable RadioSTAT Stations)
University of West Virginia - 1610AM (fixed or portable VoiceStar Radio Station and FASTrack Signs)
Upshur County - 1610AM (2 fixed or portable RadioSTAT Stations)
Wardensville, Town of - 1610AM (2 fixed or portable RadioSTAT Stations)
Webster County - 1610AM (2 fixed or portable RadioSTAT Stations)
Wetzel County - 1610AM (2 fixed Information Stations)
RETURN TO TOP
WISCONSIN
Beloit, City of - 530AM (fixed Information Station)
Chippewa County - 1610AM (fixed or portable RadioSTAT Station)
Experimental Aircraft Association (EAA) Annual Fly-In, Winnebago County - 530 and 1210AM (fixed Information Station)
Fox Cities Convention and Visitors Bureau for Grand Chute, City of - 590AM (fixed Information Station)
General Mitchell International Airport, Milwaukee - 1320AM (fixed Information Station)
Horicon National Wildlife Refuge, US Fish and Wildlife Service (USFWS) - 1610AM (fixed Information Station)
Kenosha (City of) Area Convention and Visitors Bureau - 1180AM (fixed Information Station)
Madison (City of) Convention and Visitors Bureau - 1610AM (fixed Information Station)
Milwaukee (City of) Convention and Visitors Bureau - 1080AM (3 fixed Information Stations)
Racine (City of) Convention and Visitor Bureau - 1700AM (fixed Information Station)
Upper Mississippi River National Wildlife Refuge, US Fish and Wildlife Service (USFWS) - 1610AM (fixed Infomation Station)
Wisconsin Department of Tourism - 530 and 1610AM (9 fixed Information Stations statewide)
Wisconsin Department of Transportation (WisDOT) - 530 and 1610AM (multiple fixed and portable Highway Advisory Radio Stations)
RETURN TO TOP
WYOMING
Alpine, Town of - 1610AM (fixed or portable RadioSTAT Station)
Bridger-Teton National Forest, US Department of Agriculture Forest Service (USDAFS) - 1710AM (3 fixed or portable RadioSTAT Stations)
Carbon County Visitors Council - 1610AM (2 fixed Information Stations)
Devil's Tower National Monument, National Park Service (NPS) - 1610AM (fixed Information Station)
Fort Laramie National Historic Site, National Park Service (NPS) - 1610AM (fixed Information Station)
Grand Teton National Park, National Park Service (NPS) - 1610AM (fixed Information Station)
National Elk Refuge, US Fish and Wildlife Service (USFWS) - 530AM (fixed Information Station)
Shoshone National Forest, US Forest Service (USFS) - 530AM (fixed Information Station)
Sweetwater County - 780AM (fixed RadioSAFE System); 1530, 1620 and 1640AM (3 fixed or portable RadioSTAT Stations)
Wyoming Department of Tourism - 530 and 1610AM (9 fixed Information Stations statewide)
Wyoming Department of Transportation (WYDOT) - various frequencies (multiple fixed and portable Highway Advisory Radio Stations)
Yellowstone National Park, National Park Service (NPS) - 1610AM (multiple fixed and portable Highway Advisory Radio Stations)