CUSTOMER REVIEWS
"We have your RadioSTAT system and it works beautifully. We have used the system extensively during our Covid operations."
Colin Burns
Florida Department of Health Emergency Prep
Citrus County, FL
"People are very reliant on our AM station. We knew this would be the case, but wow."
Ray Rothrock
Chair, Emergency Planning Committee
Portola Valley, CA
"Deployment went quickly and was completed in about 20 minutes. The coverage was phenomenal and absolutely unbelievable that a 10-watt station could be heard nearly 6 miles away in an urban environment with many tall buildings. Overall, the system was an excellent investment."
John Black
Wireless Communications Manager
Long Beach, CA
"We are using our info radio station [RadioSTAT] on 1640 kHz for the second year to broadcast information during the National High School Rodeo Finals (NHSRF). We use it with wonderful success to broadcast traffic information, emergency information and daily event schedules."
David Johnson
Emergency Manager
Sweetwater County | Rock Springs, WY
"We use RadioSTAT to provide the citizens with public health information in conjunction with field clinics ... in response to public health emergencies, such as the recent pandemic. These instructions include directions, ... how to proceed ... and what to expect once they arrive, ... [also] medical information about the public health emergency and where to obtain further information."
Brad Witte
Emergency Preparedness Director
Allen County, IN
"During emergency and or disastrous situations, we provide information on the event and safety rules to follow to protect the lives and property of our residents and/or visitors. During non-life threatening events, we provide information on general conditions throughout the County."
Marvin Hill
Emergency Management Director
Randolph County, WV
Capabilities

During public health and safety emergencies, take a RadioSTAT Portable Emergency Advisory Radio Station into critical areas and speak directly to citizens via standa
rd radio receivers. RadioSTAT can be a lifesaver, allowing broadcasts of critical instructions and information, for example...

Evacuations (wildfires, floods, hurricanes).
Medical emergencies (hospital surges, points of dispensing, quarantines, decontamination).
Terrorist incidents.
HAZMAT situations.
Critical public safety messaging.
Road construction and infrastructure failures.
AMBER alerts.

Built for speed and portability, RadioSTAT electronics are housed in high-impact, weather-resistant cases. A fold-out antenna system allows a station to be set up in 10 minutes by one person. Portability is an instant asset during emergencies, allowing re-establishment of the signal from a new location quickly. (Portability also makes RadioSTAT especially useful at large public gatherings for broadcasting schedules, traffic, parking, safety and critical instructions for patrons approaching or exiting.)

Programming may be controlled using flash drives (the USB Edition) or across a network or via SD card / USB adapter (the IP Edition). The USB Edition is most commonly utilized for totally portable applications; while the IP Edition is for systems that generally operate from a fixed position but need to be ready to deploy. Both include a program mixer that allows live broadcasting, paging over a repeating program and the inclusion of outside audio sources.

RadioSTAT Systems are FCC-licensed. The signal is typically announced to the public by quick-erect

FASTrack portable signs

, positioned at the periphery of the coverage area. Motorists receive broadcasts on standard vehicle radios, over 25-75 square miles. During non-emergency times, officials often operate from fixed locations via a

Vertical Profile Antenna

. This helps familiarize citizens with the frequency. Regular

FCC-allowed messages

may be broadcast during those times.

Information Station Specialists is the sole provider of RadioSTAT in the United States and offers 24 / 7 remote technical support for the life of the product.

Two Editions from which to Choose

| | |
| --- | --- |
| IP Edition | USB Edition |
| Manage the broadcast program via an network or locally using the station's front-panel controls. In an emergency, message files can be loaded physically via SD card with a USB adapter. The RadioSTAT IP affords full 5000 Hz audio quality plus the convenience of a network-accessible message library. | Update the broadcast program from a simple flashdrive through the station's USB port. The USB Edition of the RadioSTAT combines high quality 5000 Hz bandwidth with the convenience and flexibility of flashdrive control. The length of the program is only limited by the flash drive size, so virtually any length and number of messages is feasible. |

For both editions, audio creation software is provided to allow you to create, edit and process natural voice messages for broadcast. Archive the messages on the PC, laptop or device of your choice for quick call-up. Both editions can transmit from a fixed location with a permanently installed antenna and also be ready to roll out on a moment's notice with a portable antenna, as well. FCC licensing provided with RadioSTAT systems accommodates both fixed and territorial licenses for the service. Our Hybrid Package option allows for both IP and USB methodologies, providing additional convenience and redundancy plus the addition of a program mixer for live mic / live feed applications.

Key Advantages

Third-party companies are not needed for continuing service, carrier or activation fees and therefore do not need to be relied upon during emergencies.
When the AC grid goes down, RadioSTAT still works if operated on a generator or battery pack; and receivers are in vehicles.
AM radio methodology has been active for 80 years and is not likely to be supplanted anytime soon.
Citizens do not need to purchase special devices to receive RadioSTAT messages.
RadioSTAT stations allow public officials to speak directly to motorists without distracting text messages on portable devices.
Radio messages supersede text services in amount of information and level of detail that can be delivered efficiently.This aural medium also allows officials to speak to the public in a natural, person-to-person way that might be calming during an emergency.
RadioSTAT comes in an easy-to-go format but may be used in a fixed location when not needed on the road.Its low price makes
RadioSTAT accessible, so communities can afford more than one station to cover jurisdictions.

Standard Package
Options

Transmitter and digital message player in portable case, containing broadcast control electronics.
Multichannel mixer and microphone for live broadcasting, paging over a repeating program and/or the inclusion of outside sources.
Portable antenna system and stand with coaxial cable and stabilizing sandbags.
Two flash drives in carrying case.
Equipment pouches and stowing bags for mics, cables and antennas.
Set-up tools.
Illustrated Instructions.
An array of services that includes system planning, engineering and 24/7 remote technical support for the life of the station.

See Technical Specifications webpage.

Recording headset and mic for PC / laptop.




Hybrid option for both USB and network-based audio control.

Antenna height extender for terrain / interference / obstruction-challenged areas (a 10' black, anodized pole extension to existing antenna system that increases signal strength 70%).

Signal Measurement Radio Receiver

that allows you to measure signal intensity and verify FCC compliance.

Options for fixed antenna location(s) in addition to the portable RadioSTAT antenna. Fixed antennas can be installed on flat-roof buildings (click thumbnail, right to see photo) or in a yard adjacent to a host building: (1) Fixed

Vertical Profile Antenna Support and Grounding System

. (2)

HPR.0990 Antenna System

for expanded signal coverage.

StreamCAST Service

for streaming broadcasts to smart devices.

Professionally recorded audio messages so your broadcast is ready to put on the air as soon as the station is turned on (see permitted content.)
FCC licensing services.
Signs to announce the station.

Who Operates RadioSTAT Stations?



RadioSTAT is increasingly a standard communication tool for public health and safety agencies across the nation (see a examples listed on the righthand side of this page) as well as for community events, military bases, highway departments. Let us know if you'd like customer contact info for reference.
Planning & Purchasing Your System

We provide a full menu of technical services to help you put and keep your RadioSTAT station(s) on the air. We will help plan and implement your station, including frequency and site selection, FCC licensing, installation, staff training and the FCC-required field survey and documentation. Even professionally recorded audio messages are available, so your broadcast is ready to put on the air as soon as the station is turned on. Best of all, each system comes with remote technical support for the life of the station.

See typical planning steps and/or contact Bill Baker for a recommendation on the best setup for your intended application. Bill can also supply related pricing.

The RadioSTAT Systems are priced affordably so that multiple units can be purchased and deployed simultaneously at different locations during emergencies. See Purchasing Method Options here.

Note: Because FCC processing time is unpredictable, we recommend that you request licensing and other FCC documentation services from us as soon as you know for sure you will have a station – definitely no later than when you place your radio equipment order.

For more features, see the ALERT AM Emergency Advisory Radio System. For extended range emergency broadcasting, see RadioSAFE Wide Area Emergency Broadcast Radio Systems, which offer coverage areas of a 5 to 20+ mile radius.
RELATED LINKS
Brochure
Planning Guide
Technical Specifications
CUSTOMER EXAMPLES
Photo by Harmer Communications
Kahului, HI
The above RadioSTAT antenna rests 500 feet above sea level, overlooking the remains of Lahaina, Maui. The State of Hawaii deployed the station to broadcast safety and status updates for relief / recovery workers and returning residents with a listening range of 3-5 miles on 1700 AM over the ground and 5-7 miles radius along the shoreline
* * *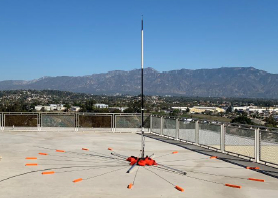 RadioSTAT's portable antenna and groundplane installed at a temporary COVID "vaccination station" at California State University in Los Angeles, installed by Caltrans / Office of Emergency Services.
* * *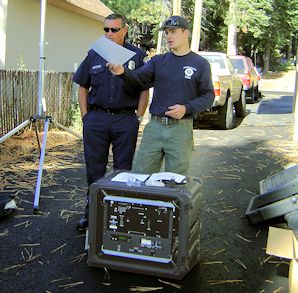 PIO Dave Zaski (left) & Thomas Cravener at North Tahoe, CA, Fire Protection District train personnel. The District's 3 units are used to allay fear and route residents safely away from terrifying wildfire danger.
* * *
ADDITIONAL USE EXAMPLES
Community Events
CA
Grand Prix Association of Long Beach
Emergency / Fire / Health
AZ
Maricopa County & the State Emergency Department
CA
12 Cities & Fire Districts plus Los Angeles & Ventura Counties
CT
City of Westbrook
FL
State Health Department
IA
Clarke, Keokuk & Wapello Counties
IL
Illinois Law Enforcement Alert Group
IL
Maine Township
IN
Marion & 10 Other Counties plus Porter Health Hospital
KS
Sedgwick County
MA
Worcester County & the State Emergency Agency
MI
Allegan, Newaygo & Ottawa Counties; City of VanBuren
MN
Hennepin County (Minneapolis Area)
MO
City of Independence
MS
City of Oxford
ND
State Emergency Services & Health Department
NE
Douglas County & South Sioux City Police
NJ
Mantoloking Borough, Union Township & City of Vineland
NH
Town of Pittsfield
NM
Albuquerque & Bernalillo County
OH
Cities of Ashtabula & Findlay plus Athens & Delaware Counties
OR
Cities of Happy Valley & Sandy
PA
Bucks County
SD
Douglas County
TN
State Health Dept; South Central Region; Shelby County
TX
Coastal Bend & SW Regions; Pharr; Williamson County
UT
Cedar Mountain Fire District; Iron & Millard Counties
WV
8 Counties plus the Cities of Alpine, Bridgeport & Wardensville
WA
City of Burien plus the Makah Tribe Government
WI
Chippewa County
WY
Alpine; Sublette & Sweetwater Counties
Military
NC
US Marine Corps
Traffic Safety
FL
Department of Transportation
MD
State Highway Administration
NY
Verrazzano Narrows Bridge
Visitor Info
AZ UT
Bureau of Land Management & USDA
AZ
Ironwood National Monument
CA
Yosemite National Park