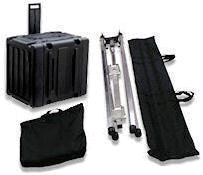 RadioSTAT System
Easy to deploy to incidents, RadioSTAT is a flexible, compact, transportable Information Radio Station that can operate from a fixed location when not required in the field, which makes it quick and easy to set up and to share with other communities. Electronics are housed in a light-weight, high-impact, weather-resistant case with carrying bags for portable antenna and accessories. Versions are available that allow control by USB and/or your wired network or wireless gateway. Capable of broadcasting live and recorded messages. Coverage: 3-5 mile radius. Options a include fixed antenna site, signage to encourage motorists to tune in, wireless control. Licensing and installation services are available.
VoiceStar System
The VoiceStar System is trailer-mounted, easy-start, licensed AM radio station and a full-sized changeable message. Customizable, VoiceStar is solar/AC powered. Both visual and radio messages are managed via wireless means or locally. VoiceStar Systems may operate from a fixed location when not needed in the field. Stations are often integrated into a system of several units to instantly notify the public at highway construction zones, traffic incidents and in health and safety emergencies. They are built to operate in isolated locations. Coverage radius: 3-5 miles.
EventCAST Rental Radio Station
Rent an Information Radio Station for an event, emergency, for signal testing or as an interim solution while a permanent station is installed. Packages can include services: licensing (required for government agencies), onsite setup assist and professional message recording. Coverage: for government agencies, 3-5 mile radius with license; for educational institutions, on property, unlicensed per FCC Part 15.221.