Customer Review

"The VoiceStar can be used to provide shelter, point of distribution, point of dispensing, evacuation and emergency action messaging to the public for incidents where this information is a necessary part of the public information stream. Oakland County also pre-deploys VoiceStar to special events to provide event messaging, such as, traffic routing, parking, shuttle locations, etc."
Theodore Quisenberry
Oakland County Homeland Security, MI











Related Links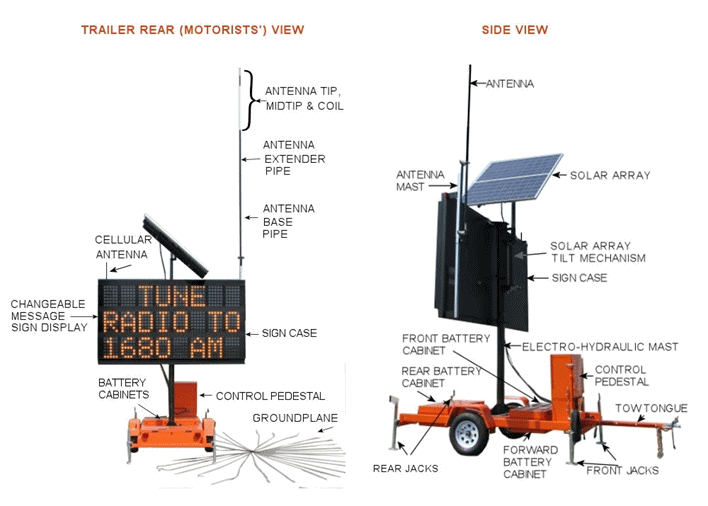 Compliance
Requires FCC license granted to local government or health agency (FCC Rules Part 90.242) or by NTIA (National Telecommunications and Information Administration) for federal government agency or by US Military. Federal Compliance: NTCIP (National Transportation Communications for Intelligent Transportation Systems Protocol).
Standard Components
Trailer
Dimensions: height 162" (raised), 109" (stored), width 79.5", length 190".
Weight: 2500-3000 pounds, varies with options.
Painted steel.
4-jack leveling system.
Removable tongue and wheels.
Surge brake.
Lockable equipment cabinets (4): batteries 2, electronics 2.
Cellular gateway for wireless sign and radio message control.
Power
Solar: auto-tiltable 440-watt array; 25-40-degree selectable angels; full 360-degree rotation.
Batteries: 18 - 210 AH 6V batteries in 1890 AH pack, AGM maintenance-free, low voltage disconnect.
AC charger: 90 watts.
Runtime: combined sign and radio station operation 15 days on fully charged batteries alone; 18+ days with solar deployed, depending upon season and location.
Component operating voltages: 12VDC and 24VDC.
Changeable Message Sign
Dimensions: height 79", width 137".
3 lines, 8 characters per line.
Characters: 18" square, lens-enhanced LED, 4 LEDs per pixel, 30-degree angularity, 592 nm ITE amber.
Programming: local controller, remote via cell gateway
Storable messages: 398 (199 pre-programmed, 199 user-defined).
Message scheduling by day/week/year.
Power management: 9-level dimming.
Hydraulic-lift-raised sign to 13" with manual override.
Transmitter (TR.6000 HQ 5.0)
FCC certified Travelers' Information (TIS) radio applications (Certification B7MTR-6000TIS-WB).
Manufactured in the USA.
0-10 watt operation, Class D, duel output devices.
Approved for military and federal agencies use on 510-530 kHz, 1610-1710 kHz - Certification J/F 12/07677.
Synthesized frequency selection.
Frequency stability +/-20 Hz.
Frequency range: 530 to 1710 kHz AM.
5000 Hz audio bandwidth with limiting.
Power and audio control relays.
Internal monitor speaker with volume control.
24V DC; power consumption 36 watts.
19" rack mount, 1 RU.
IP-Based Digital Audio Management System (TMS.020)
Browser-based (LAN/WAN) or local control program control.
Local message selection via front panel control.
File format: MP3, WAV, FLAAC, OGG; (64-128 kbps recommended).
network (RJ-45 Port).
Memory format: nonvolatile - no battery backup required.
Currently playing message displayed on front panel LCD.
Message loading via network upload or removable SD card.
Memory storage size 32GB minimum.
Message lengths: variable. Message playlists may be created and stored.
Message order: continuous sequential message play-out based on user-determined order.
Messages and playlists may also be triggered by HTML CGI commands.
Audio inputs and outputs: 600 ohms; RCA jacks; unbalanced.
Power: 120VAC/12VDC (2 watts); 150 ma @ 12VDC.
19" rack mount format; 1 RU. Dimensions: 19" W X 1.75" H X 10" D.
AM Radio Antenna
Hinged erection system.
3-piece construction.
Length varies with frequency.
Center loaded with tunable tip.
Black UV and ice-resistant finish.
AM lightning arrestor, 10' radius high-flexibility groundplane.
Frequency range: 530-1710 kHz.
Stored on trailer deck for transport.
PowerPlane Preassembled Groundplane (PPFL.10)

See TechTalk article "Underground Power: Why Antenna Grounding Is Important, How It Works and Is Installed."
Preassembled, one-piece construction.
32 elements.
10' radius.
High flexibility stranded wire radials (16 AWG, 195-30 AWG strands per radial wire).
Connection wire: 5' length (4 AWG high flexibility stranded wire).
Associated Materials
Illustrated instruction manual.
All wiring, connectors, mounts and hardware.
Test equipment: wattmeter and dummy load for antenna tuning and system diagnosis.
Required Utilities
For charging batteries: 110/220-volt AC, single phase/50/60 Hz, less than 1 amp AC operating current, 4-amp maximum AC charging current (20-amp breaker, nonGFI circuit); standard business telephone line ("central office" type, shielded).
For wireless changeable message sign and radio message operation: standard cellular data account.
Commonly Supplied Services
Onsite Training and FCC-Required Signal Study