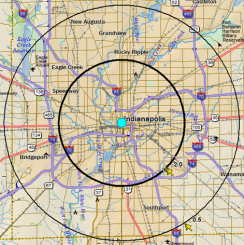 Related Link
The RadioSAFE program is all about large coverage; therefore, the planning process starts with a determination that an open frequency is available at the required location so the RadioSAFE system can operate at its full potential. Then FCC licensing / engineering, equipment procurement and installation can occur.

A RadioSAFE Broadcast Systems are installed strategically at a central location in the jurisdiction where a building (ideally an Emergency Operations Center) with automatic generator power is available. The electronics are installed inside the building with the antenna system located in an adjacent yard. Installation can be performed by local contractors with locally-supplied, cable and rack cabinet. Or, we offer options in which everything is provided as a turnkey project. Contact Bill Baker to get the process started or to obtain a quote.



2 RadioSAFE Range Configurations
RadioSAFE RSF:10X

• 7-10-mile radius range, 24/7.

This variation of the RadioSAFE service operates full time at 10 watts – with a FCC waiver to allow expanded field intensity – and is intended for operators in communities that require a signal greater range than normally allowed by FCC rules.

RadioSAFE RSF:10X System has the high efficiency HPR.0990 Antenna as its centerpiece, so that maximum signal coverage can be achieved. The signal radius of 7-10 miles is suitable for many counties and medium-sized cities. Stations can be synchronized in groups to increase the coverage footprint. RadioSAFE RSF:10X systems are provided with a waiver application that requests signal limits that exceed the standard signal level of 2.0 mV/m at .93 mile.

See RSF:10X Technical Specifications.*
RadioSAFE RSF:500.10X

• 7-10 mile radius range, 24/7.

• 20 miles radius coverage under FCC emergency authority.

This broadcast-class facility is licensed to an agency as a Travelers' Information Station under FCC Rules Part 90.242. With FCC emergency authorization, a higher powered AM transmitter may be substituted for the 10-watt transmitter, which can produce a signal coverage area that rivals that of a commercial broadcast station.

The wide-area coverage potential is made possible by an innovative antenna system – the HPR.0990 – which is capable of operating at hundreds of watts in an emergency but can also function at 0-10 watts in compliance with FCC rules (Part 90.242) on a daily basis. A HPR.0990 Antenna can make the transition to high-power operation with no physical modification or re-tuning required. This allows RadioSAFE RSF:500.10X systems to be tested and exercised at lower power as Travelers' Information Stations, so they are ready for high power operation when needed and approved. The antenna system is installed away from obstructions in an open area that affords vertical room for the 50' antenna and horizontal room for the antenna's grounding system – comprised of a 50' radius groundplane.

The delivered RSF:500.10X package includes the engineering document required to obtain emergency authority from the FCC to initiate high power operation on short notice. It also includes a waiver application for expanded signal intensity limits when operating at 10 watts.

See RSF:500.10X Technical Specifications.*

(*) 20-mile radius signal coverage is nominal and presented here for example purposes only. Actual signal range will vary based on antenna mounting position, local ground conductivity, terrain, interference sources and the specific broadcast frequency utilized.

Planning Steps

1. Determine a broadcast location and/or operating area, consulting with us.

The RadioSAFE system is a fixed-antenna system.

Use a map to select a general operating location for your station such that a radius circle fully encompasses the highways requiring coverage. The signal on a RadioSAFE 10X system with FCC waiver of field intensity will usually carry 6-10 miles depending on frequency – and will be heard even farther away on some radios. But the strongest part of the signal will always be within that radius. (The RadioSAFE 500:10X system has a higher powered-transmitter for even larger coverage with FCC emergency authorization.) If a specific highway or intersection is critically important to cover, consider a broadcast location nearby. Mark the map to show the area within which the antenna should be located to meet your coverage goals.

For best coverage, the immediate antenna location should be a ground location free of objects that are immediately lateral to the antenna. This includes buildings, trees, terrain features, lighting, power and communication poles, other antennas and towers, overpasses and highway signs. Lateral obstructions which exceed the height of the antenna support, should be as far from the antenna as they are tall. For example: If the AM antenna is mounted on a 20' pole, if there is a 35' tree nearby, make sure it is a minimum of 35' away, etc. If the antenna is located closer to lateral objects than indicated above, signal intensity and range can be negatively affected.

The RadioSAFE 10X system also has an option for mounting the antenna on the flat roof of a building.

Additionally, listening both within and outside the radio coverage area(s) is possible, if you select the StreamCAST Service to simulcast across the internet to listeners with PCs and portable devices.

2. Consider fixed or temporary signage options.

Signs are commonly used to advise citizens of the radio service and its status. Survey our various static, dynamic, fixed and portable sign options at this link. Consider where will be placed to announce to motorists entering the area that the signal is available.

3. Conduct a frequency search.

Selecting the best radio frequency for operation is an important determination. Survey (with an automobile digital AM radio tuned to your candidate frequencies) the streets, areas where listening is required. Monitor all of the candidate frequencies throughout the listening areas at least once during daylight hours and at least once after dark. Here is a form designed to help.

4. Order FCC licensing and the required products and services.

Generally, deliverables, licensing and other services are ordered together. But in some cases you may want (or be required) to have a granted FCC license in hand before placing your equipment order and requesting installation services. See our FCC Licensing Services webpage.

5. Determine a delivery / installation plan.

Our project managers work with you one-on-one to develop a timeline, division of responsibility and scope of work required to make your project a success. See our Installation Services webpage.

6. Partner with us to create great messages for broadcast.

We provide up to 3 minutes of no-charge general broadcast recordings with the opportunity for you to commission more. We can also help you write and produce multi-voice productions tailored to your application. Learn more about our Recording Services.