Customer Review
"The VoiceStar can be used to provide shelter, point of distribution, point of dispensing, evacuation and emergency action messaging to the public for incidents where this information is a necessary part of the public information stream. Oakland County also pre-deploys VoiceStar to special events to provide event messaging, such as, traffic routing, parking, shuttle locations, etc."
Theodore Quisenberry
Oakland County Homeland Security, MI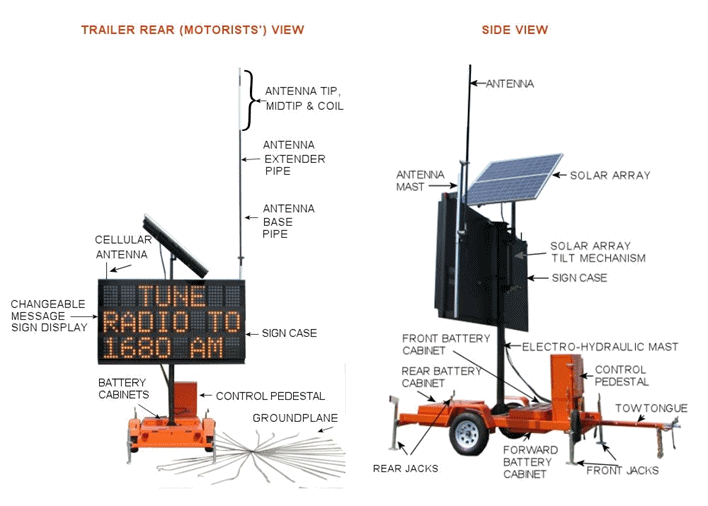 Trailer
Dimensions: height 162" (raised), 109" (stored), width 70", length 188".
Weight: 2500-3000 pounds, varies with options.
Painted steel.
4-jack leveling system.
Removable tongue and wheels.
Surge brake.
Lockable equipment cabinets (4): batteries 2, electronics 2.
Power
Solar: auto-tiltable 440-watt array; 25-40-degree selectable angels; full 360-degree rotation.
Batteries: 18 - 210 AH 6V batteries in 1890 AH pack, AGM maintenance-free.
AC charger: 90 watts.
Runtime: combined sign and radio station operation 15 days on fully charged batteries alone; 18+ days with solar deployed, depending upon season and location.
Changeable Message Sign
Dimensions: height 79", width 137".
3 lines, 8 characters per line.
Characters: 18" square, lens-enhanced LED, 4 LEDs per pixel, 30-degree angularity, 592 nm ITE amber.
Programming: local controller, remote via cell modem.
Storable messages: 398 (199 pre-programmed, 199 user-defined).
Message scheduling by day/week/year.
Power management: 9-level dimming, low voltage disconnect.
Hydraulic-lift-raised sign to 13" with manual override.
Information Radio Station
Transmitter: 0-10 watts, certified by FCC for TIS/HAR Part 90.242, high efficiency Class D, bandwidth 5000 Hz, 1RU rack height, AM frequencies 530-1710 kHz synthesized, military J/F12 approved, monitor speaker.
Digital message player: file format mp3pro, primary upload Ethernet IP via cell modem with 20-MB flash memory; backup: USB port, 20-MB flash memory, auto repeat, password protected.
Software: audio creation, editing and processing; may be duplicated by buyer.
Antenna: hinged erection system, 3-piece construction, length varies with frequency, center loaded with tunable tip, black UV and ice-resistant finish, AM lightning arrestor, 10' radius high-flexibility groundplane.