Post-Pulse Public Communications
Radio: a Survivable Asset Should
a Community Need to Navigate an Electromagnetic Pulse Attack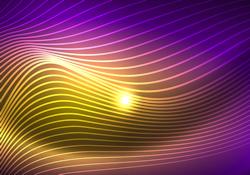 Graphic by Antishock
The overflight of the Chinese surveillance balloon has emergency managers considering how they will speak to the public should an electromagnetic pulse (EMP) cripple power, telecommunications or internet infrastructure. Once a possibility discussed mainly within the tin foil hat crowd, the recent demonstration of the ease with which a high-altitude device can enter our airspace has brought the topic to the forefront for safety officials. Research generally has painted a dim picture of the survivability of unprotected electronics after a pulse event. But the scenario would vary widely.

Factors that favor component survival include . . .
Electronic systems that are disconnected from the power grid.
Small electronic components with short conductor lengths.
Shielded electronics – unintentionally or intentionally.
The issue has increased questions about how to protect public emergency communication devices such as the RadioSTAT System, which, it has been suggested, could be a valuable asset in the aftermath of such a disaster.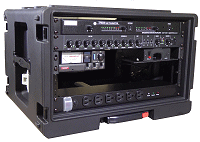 RadioSTAT Portable Electronics Case
Because the system can be kept off-line and protected in a simple EMP protection bag and because most radio receivers today are in cars, which may have a certain amount of natural immunity due to shielding and other factors, the question of protectability has been posed. As a response, manufacturer Information Station Specialists now offers EMP protection solutions for the RadioSTAT System, available for new systems and for after-market upgrades.

New EMP Protection Bag
for RadioSTAT Electronics Case
Contact Bill Baker for more information.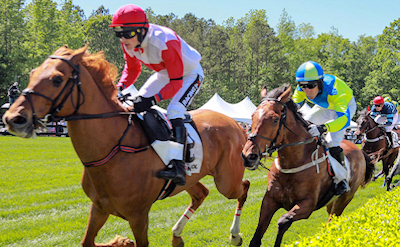 Riders round a curve in the Queen's Cup Steeplechase near Charlotte, NC.
Photo courtesy of Charlotte Steeplechase Foundation
Finishing Strong
Special Event Radio Stations Mitigate Communication Snafu's for Major Venues
CHARLOTTE, NC: The 2022 Queen's Cup Steeplechase Race was a thundering success for the horses and jockeys and almost all of the patrons. But an unexpected cellular network overload made it obvious to organizers and safety officials that when that element stumbles out of the gate, it can take a lot down with it.

"The outage caused an emergency issue for medical and fire apparatus just with getting people onto the race grounds," Chairman Bill Price told The Source. "The 2022 event became a traffic nightmare."

Incoming patrons count on their GPS systems for directions and can become disoriented if that service would be disrupted. So this year, event organizers will operate an EventCAST Radio System on 1620 AM in parallel with their other communication systems to make sure everyone is on the same page, no matter what.

Price stated, "With a 3-mile radius, the EventCAST station will be a great way to communicate a variety of things to patrons that will make their trip in and their access to the gate easier."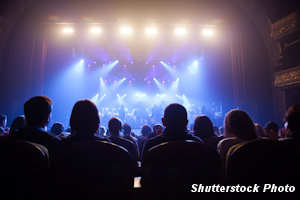 Virtually everyone has a car radio right in front of them, which allows attendees across a spectrum of technical abilities to receive parking, traffic and event background information in advance of their arrival. Hear an example recorded at Orlando's Hamcation Amateur Radio Convention.

The EventCAST System can also be employed to transmit live public address audio during an event. The Queen's Cup will broadcast the call of the races and will have the capability to make instant announcements if needed. The nearby Town of Mineral Springs, North Carolina, will hold the FCC license for the radio service.

Last year, 313 Entertainment, which manages Pine Knob and two other amphitheaters in the greater Detroit area, provided three separate EventCAST Systems for concert attendees on 1640 AM in cooperation Oakland County Emergency Management. 2022 was the 50th anniversary of the Pine Knob Music Theater, where the radio service was used to set the theme for their summer of celebration.

If an emergency (traffic, cellular, safety, severe weather, etc.) were to occur at an event, EventCAST Systems provide an efficient way to apprise patrons, who can be instructed what to do, and especially how to make an orderly exit. Emergency messages can be kept on hand for instant insertion and broadcast by security personnel.
Rock Radio Resurfaces
Industry Pro Employs Short-Range Radio to Encourage Driver Safety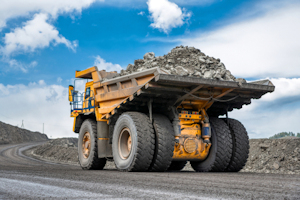 There's a lot to know if you're arriving at a gravel pit or a cement plant with your truck, and it's your very first time. One leading supplier of aggregates and heavy building materials in the US is broadcasting safety regulations to arriving truck drivers so they are more prepared when they enter their gates. The company is utilizing the InfOspot AM Radio Transmitter System to generate the broadcasts at US locations that number in the hundreds.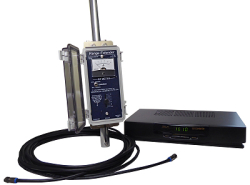 The InfOspot AM Radio Transmitter System
with Range Extender Outdoor Antenna and Tuner
"The InfOspot AM Radio transmitter is a robust design, is easy for us to set up, and allows us to broadcast messages with impressive clarity, "states the company's Environmental Health and Safety Manager. "These transmitters at each of our sites will help ensure customer, contractor, and employee safety for years to come."

The company has commissioned a custom radio system, designed specifically for them by Information Station Specialists. It includes convenient USB / flash drive audio repetition so messages can be kept current as regulations change. All equipment is housed in a 19" wall-mounted rack frame for operation and service convenience.

The InfOspot system requires no license under FCC Part 15 Regulations and can deliver a quality signal across a 1200-2500' range (1/4 to 1/2 mile).

Broadcasts will be recorded by bilingual announcers to get safety information in front of as many drivers as possible.
See Recording Services. [Generally you never want to be in front of one of these drivers, but this would be an exception.]

In the Works
New Stations

Camden County, GA

2 New VoiceStar 100 Portables
Haslet, TX
ALERT AM System
Jurupa Valley, CA
Radio

STAT

System
Lake Almanor, CA
RadioSAFE System
Winchester, CT
Information Station
Recently Upgraded Stations
See "The Top 10 Most Popular Types of Upgrades."

Baytown, TX
ALERT AM System

Calabasas, CA

Information Station
CIA, VA
2 Information Stations
Dublin, OH
Information Station
Fort Bend County, TX
ALERT AM System
Joint Base Lewis McChord, WA
Information Station
Lexington-Fayette County, KY
5 ALERT AM Locations
Metuchen, NJ
ALERT AM System
Murrieta, CA
ALERT AM System
Point Pleasant Beach, NJ
Information Station

San Leandro, CA

Information Station
US Army Corps of Engineers, GA
Information Station
US Army Corps of Engineers, SD
Information Station
Vacaville, CA
ALERT AM System
Virginia DOT
8 ITS.6000 HAR Systems
Weston, FL
ALERT AM System
Wind Cave National Park, SD
Information Station
See a state-by-state list of stations acquired by US agencies.
Information Radio Stations is a generic term synonymous with Travelers Information Stations (TIS), Highway Advisory Radio Stations (HAR) / Highway Information Systems & Low Power Radio Stations (LPR). Operation of the stations is governed by FCC Part 90.242 Rules. A FCC license is required. Information Radio Stations may be fixed or portable. Subcomponents may include transmitter, antenna and ground system, digital voice player, wattmeter, cabinet with conventional or Corbin locks, lightning arrestors for RF, power and telephone lines, coaxial cable. Most stations employ black maximized antennas to discourage ice accumulation and security measures to prevent unauthorized program access. Options include synchronization, battery backup, solar power, remote programming by local, network or telco, multi-station audio distribution via RF or LAN / WAN or wireless network.