BREAKING NEWS
A Call to Action!
The National Association of Broadcasters has devised a quick-and-easy way for you to voice support for the new "AM Radio in Every Vehicle Act" that would require manufacturers to keep AM radio in cars (at no additional cost to users) to ensure that Americans can hear emergency alerts -- just as carmakers are required to include safety belts. Time is of the essence, so visit 'Act Now' to add your name to list of those who support the legislation! Your voice matters. Please join the effort and share this info within your sphere of influence. See also this excellent summary published by Inside Radio.

UPDATE: On May 23, one major automaker reversed course and announced that AM Radio will remain in their vehicles but did not say for how long. Other carmakers have not turned this corner yet. That is why NAB president / CEO LeGeyt today reminded Congress that the legislation continues to be required, stating, "Broadcasters will continue to support this major legislation to ensure consumer access to AM Radio in all vehicles."
* * *
Safety to Take Back Seat?
Automakers Need to Rethink Proposal to
Remove Radio Receivers from Future Vehicles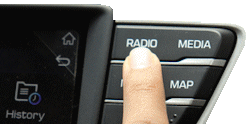 DETROIT, MI: How could Motown have become so tone deaf?

Certain U.S. automakers are intending to eliminate AM radio receivers from future models of both electric vehicles (EVs) and gasoline-powered cars, despite the Federal Emergency Management Agency's (FEMA's) investment of billions of our dollars to ensure that AM radio will be the backbone of our safety network in a national emergency.

All the while, surveys indicate that more than one in five customers say that AM radio is an important vehicle-buying feature for the very models on which radio removal is proposed.

What's the back story?
Some automotive manufacturers claim that integrating AM receivers into Electric Vehicles (EVs) is impossible due to electrical interference, even though there are thousands of EVs on America's roads right now, equipped with AM receivers.

Some automakers point out that emergency notifications are available from other sources (aside from radio), ignoring the fact that non-radio sources (cellular, internet) are highly vulnerable to attack and overload during emergencies. And we all know that most states have enacted laws that discourage drivers from using mobile devices while on the road.
The real reasons manufacturers want to eliminate AM radio are obvious: (1) They can save dollars by eliminating the special shielding required for receivers to work well, especially in new Electric Vehicles. (2) In the future, automakers intend to fully control all vehicle dashboards and eliminate free services, such as radio, that cannot be monetized.

As citizens, we can't let this happen!

Virtually every car and truck in America today is equipped with an AM receiver, making AM radio one of the most reliable sources of information during emergencies. AM daytime coverage is massive compared to FM and cellular – and even more so after dark when signals can be heard for thousands of miles. This is why our national notification network leans heavily on AM, anticipating the day when a cyberattack or service overload during a disaster makes wireless methods worthless. FEMA has invested our tax dollars to harden the AM network with generators, shielded studios and special communications so the network can survive virtually any catastrophic scenario.

It is time for action, and that action might need to happen at the Congressional level.

Early in 2023 the American Association of Information Radio Operators (AAIRO.org), joined with the Federal Communications Commission and a coalition of state emergency management agencies, politicians such as Mike Pence and various senators and representatives to address these concerns.

The National Association of Broadcasters initiated a grassroots effort, asking U.S. citizens to petition Congress to act with a national campaign that encouraged them to Text "AM" to Cell Number "52886" and sign a short petition intended to "Keep AM radio in cars." They reported having received over 187,000 responses.

For broadcasters, this is their livelihood. But for all of us, the difference during a national emergency might be our lives. It may take an act of Congress to stop the very car manufacturers that we propped up during the great recession from seeking a break for themselves while breaking radio -- America's emergency safety net.
Hiking at Mount Mitchell 6684 Feet above Sea level
Remote Parks Rely on Radio
. . . to help visitors navigate safety in
the "land of limited services."
BURNSVILLE, NC: Perched on the Blue Ridge Parkway northeast of Asheville, North Carolina, is Mount Mitchell State Park. This gem of the Appalachians boasts the highest mountain peak east of the Mississippi. But to get there, you have to enter a land devoid of many of the services modern America is accustomed to. Gasoline? That's at least 16 miles away; some days it's 30. Cellular service? It depends on where you stand. Weather forecasts? Not likely to match the conditions that greet you when you arrive at the top. Food? That's why they made backpacks.

It is in these "information deserts" that Information Radio services thrive – especially with the current limitations on staffing to provide face-to-face visitor orientation.
Signs advise visitors to tune in as they drive in.
Mount Mitchell's radio broadcast is all about safety, advising upbound patrons of service limitations before they climb the steep 1400-foot access road. Weather at the top can be sharply colder with snow and fog that some visitors don't plan for before they start upward. The winding access road is also traveled by bikers and hikers that drivers need to keep an eye out for.

The Friends of Mount Mitchell's IT manager Alan Orovitz points out that the broadcast, "provides critical safety information. If there are severe weather conditions expected we definitely don't want people to start out on the trail system."
<![if !vml]>
<![endif]>
On a clear day visitors can see 100 miles and into two adjacent states from the summit of Mount Mitchell, located in North Carolina's first state park.
With the Mount Mitchell station, North Carolina State Parks join hundreds of outdoor venues that have installed Information Radio Stations to inform visitors as they approach – the optimum time to reach out to refresh details they might think they know from the web.

Recently Hocking Hills State Park in Ohio installed a similar radio service to tell motorists how they can enjoy their offerings on busy weekends when their most popular venue – Old Man's Cave – fills up. The park is nestled in a remote part of southern Ohio where cellular coverage is not consistently available.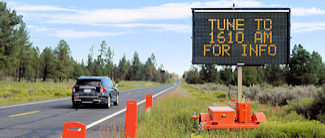 Approaching the South Rim, Grand Canyon's information service advises bus schedules, hiking safety.
The National Park Service – which invented the Information Radio service back in the 1970's – employs the technology in dozens of parks and historic sites coast to coast.

Grand Canyon National Park broadcasts at the South Rim to advise drivers about all variety of safety issues. Their EventCAST radio station was used heavily during the pandemic to let patrons know what services were available and the safety procedures required amid the changing health regulations. And, with lines at the gate sometimes stretching to two hours, the Park wants to encourage everyone to use their shuttlebuses to save time and keep the air clean.
Installing Mount Mitchell's Information Radio Antenna
Arguably the Highest Radio Antenna East of the Mississippi
Other high profile destinations such as St. Croix Island International Historic Site plan to use a more compact license-free Information Radio System (InfOspot) to broadcast interpretive information when visitor facilities are unmanned.

The use of the radio medium for information and interpretation services is a natural, given the demographics of park and historic site visitors, which skews high. Media surveys indicate that people above the age of 45 are much more likely to sample a radio service than a smartphone-based information method. Combined with the reality that digital services are not available in proximity to many of the most popular outdoor venues, radio continues to be a natural fit to keep visitors apprised.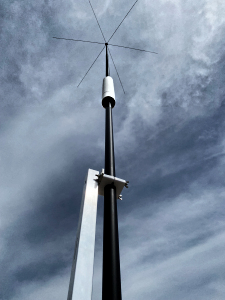 The Lowdown 630 Meter Antenna
A Brand New Band
"Hamvention" HAM Radio Convention to Showcase New 630 Meter Equipment; Information Radio Demonstration
XENIA, OH: The largest gathering of HAM radio devotees in the world takes place in Southern Ohio the weekend of May 19-21. As in previous years, Information Station Specialists is providing an EventCAST Radio Station for the event, broadcasting on AM 1620 parking, travel and weather info for attendees. But this year, there is buzz about a new antenna from the company that amateurs have been procuring to pioneer a new band that's so low at 472-479 kHz you have to look up to see the AM broadcast spectrum.

"The Lowdown" 630 Meter Antenna opens the way for amateurs to explore the new spectrum from their back yards with a HOA friendly package that can be assembled, taken down and stored with ease. February test sessions utilized digital modes and proved successful operation from Michigan to most of the lower 48 states.
February 2023 Test Results - FST4 Mode
Early reviews have been positive: "Thanks for an easy 630 meter antenna solution," offered Tom Costa (N9RU) of Marion, Illinois. Jamie Labadia (N2VJ) of Windham, New York, summarized, "I think you've created the only plug-and-play 630 meter antenna out there." See Page 2 of this summary of Tom Costa's (N9RU) experience with the new antenna.

The antenna and accessories like quick-deploy groundplanes, mounts and matching transformers will be on display in Building 1, Booth 1002. At the conference or via email Information Station Specialists can provide updates on which manufacturers intend to offer transceivers and transverters for 630 meters. See specs and/or order information at this link.

© 1983-2023 •

Information Station Specialists, Inc.

• All Rights Reserved
PO Box 51, Zeeland, Michigan, USA, 49464-0051, Phone 616.772.2300,
Email
• • •

Information Radio Stations is a generic term synonymous with Travelers Information Stations (TIS), Highway Advisory Radio Stations (HAR) / Highway Information Systems & Low Power Radio Stations (LPR). Operation of the stations is governed by FCC Part 90.242 Rules. A FCC license is required. Information Radio Stations may be fixed or portable. Subcomponents may include transmitter, antenna and ground system, digital voice player, wattmeter, cabinet with conventional or Corbin locks, lightning arrestors for RF, power and telephone lines, coaxial cable. Most stations employ black maximized antennas to discourage ice accumulation and security measures to prevent unauthorized program access. Options include synchronization, battery backup, solar power, remote programming by local, network or telco, multi-station audio distribution via RF or LAN / WAN or wireless network.