The Top 10 Improvements
Information Radio Station Upgrades Most Added by Emergency Managers

It's actually been 22 years since Y2K. Remember the Year 2000? That was when desktop computers were predicted to go AWOL due to the millennium date rollover. Though that year is a rather arbitrary point,

The Source decided to take a look back across the 22 years since, to gauge how Information Radio Stations have been improved as a tool for emergency management.

Here are the most significant improvements and upgrades, ranked by frequency of inclusion:

1 File-Based Audio Management





Broadcast messages now exist as discrete audio files in universal formats (MP3, WAV, etc.). This allows operators to maintain a library of messages on a PC or laptop or in the Cloud and move them from place to place as downloads or attachments. This major increase in convenience has made the management of content much more efficient, as well as the recording, editing and processing of messages, which can now be done via software or smartphone apps. And it goes without saying that the quality of an audio file is dramatically better than any message recorded across a phone line, as was common prior to 2000.

TMS.020 Audio Management System

2 Network Audio Control (IP via LAN/WAN)



A related improvement is the ability to manage the program playlist via a wired or wireless network (IP) connection. Devices such as the TMS.020 Digital Audio Management System have become the heart of the operation of a modern Information Radio Station. With fixed-antenna systems, this component is integrated into a LAN. The station can be controlled from anywhere that has network access. For portable systems, a wireless gateway can provide the needed connectivity.

3 StreamCASTing *



The majority of 21st century Information Radio Stations also simulcast their programming to portable devices and PCs via a service known as StreamCAST. Why? Because studies published in 2022 show that as many listeners are receiving programming through streams on portable devices, as they do on in-car radio receivers. During major events that require citizen evacuation, streams are heavily monitored by the public, both within and outside the radio coverage area. Because there is no upper limit on the number of recipients, StreamCASTs are an ideal way to get updates to the public during evacuations, in indoor locations and when electrical power is out. (Most people find a way to keep smartphones charged, even when power is down.) During the recent Mosquito Wildfire in Central California, the Town of Foresthill kept evacuees updated with an Information Radio Station on 1020 kHz and a StreamCAST simulcast that was monitored by thousands daily. (See the Foresthill Fire Protection District story, upper right.)

4 Increased Range with Higher Efficiency Antenna System *



New antenna systems are more efficient and can produce dramatically larger coverage footprints. Both ground and rooftop solutions are available. Consider models HPR.0990 and

AN2X

.
HPR.0990 High Efficiency Antenna
AN2X AM Radio Antenna
5 License Waivers *



The FCC will grant waivers for higher signal levels and antenna placements above ground level. One or both may be required when upgrading to a High Efficiency Antenna System.

6

Transmitter Audio Bandwidth Increase/Processor





FCC rules now permit Information Station Transmitters to broadcast full 5K audio vs. the 3K legacy bandwidth they were permitted prior to 2015. Internal 3000 Hz filters can be off-lined; and new 5000 Hz filters and even professional broadcast processors can be added to make the station's audio quality (compression/limiting) on par with commercial grade.

TR.6000 HQ5.0 Transmitter

7

USB Operation



Commonly, a backup audio system based on USB/flash-drive technology, such as the MGR.021 Audio System, buttresses the program operation in the event of a network or wireless service failure. And in the most basic Information Radio Stations, USB operation can be the sole means of audio management.

8 Program Mixer



The bridge between audio systems and inputs can be a DN.1201 Program Mixer, which makes live inputs and feeds convenient to integrate with recorded material, a capability required by some operators during the COVID19 era.

9 Signal Measurement Radio Receiver





Operators can now inexpensively track their received signal levels with the use of a Signal Measurement Radio Receiver. This simple device allows a technician to make certain a station is within FCC parameters and spot any signal level deviations that might be occurring at preventive maintenance checks.

Signal Measurement Radio Receiver

10 Spares





Public Safety Agencies increasingly keep spare components in stock in case of a critical failure or to maintain operations during service. Common redundant components are: Transmitter, Antenna, Lightning Arrestor, Audio Management Component(s).

(*) Footnote:

See the Foresthill, California, story (upper right column) as an example of the utilization of a combination of the above-mentioned StreamCASTing, high efficiency antennas and FCC signal waivers.
* * *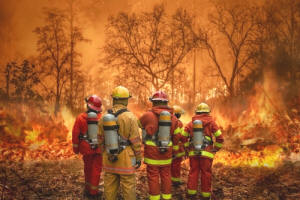 "Get Out Now!"
California Fire District Uses Radio & StreamCASTs to Move Residents
Out of Harm's Way
FORESTHILL, CA: This fall the Foresthill Fire Protection District in California battled the Mosquito Wildfire in the rugged mountains northeast of that town. The Community operates a RadioSAFE Emergency Broadcast System that has recently been granted a waiver by the FCC to run at higher signal levels. Excellent timing. Operator Richard Hercules tells us that he has usable listening reports for 14 miles from the antenna, with 10 watts of transmitter power. The District is also streaming content to their website, where thousands tuned in daily for evacuation updates. (See StreamCASTing.)
Rich Hercules of the Foresthill Fire
Protection District, Flanked by Antenna Installers
Photo Courtesy of Foresthill FPD
"We have started another grant cycle to expand our radio signal farther," says Hercules. In emergencies, the FCC will often permit a higher powered transmitter substitution to boost coverage even more, based on the situation.


* * *

Span-aversary!
Mackinac Bridge Highway Information Stations Celebrate Decades of Service
SAINT IGNACE, MI: The pair of Highway Information Radio Stations (WNHC787) that bracket the Straits of Mackinac celebrate 35 years of continuous operation in 2022. Provided by Information Station Specialists, they are the only pair of stations ever installed on two operating frequencies with a 5-mile bridge in between. Moreover, they are arguably the longest continuously-operating Information Stations in the United States.

The signals were licensed back in 1987, when only the two original frequencies were available – 530 and 1610 kHz. Each station has the same content but is on a different frequency: north-1610 kHz; south 530 kHz. This allows the programming to be received along Interstate 75 for more than 30 miles – helpful to drivers should the span be closed or restricted due to high winds, inclement weather or a traffic incident. And then there is the annual "Bridge Walk" – an event that closes the bridge to all vehicle traffic every Labor Day so fans of the "Mighty Mac" can cross it on foot.
Mackinac Bridge Walk Event
Photo courtesy of Mackinac Bridge Authority
During the past 35 years, the Mackinac Bridge Authority has replaced the radio antennas once and has increased the stations' audio bandwidth to 5 kHz, after the FCC allowed the upgrade in 2015.

Originally, broadcast messages were spoken into a RAM-based audio recorder that fed the two locations via audio lines – one of which was five miles long. Brent Garries tells The Source that today the program originates from a Notepad/program mixer that repeats and distributes the content to the two locations. For talent, they have used professional announcers, MDOT representatives and even the Bridge Authority's executive secretary, upon occasion.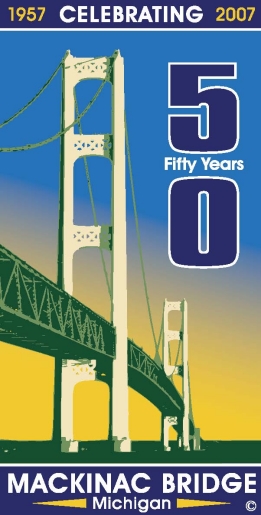 The Source salutes the Mackinac Bridge Authority for 35 years of information broadcasts that have made the Straits of Mackinac a safer place to cross.