The FCC says "Yes"
to a 200-watt test.
Waldo County, ME, has been granted a special FCC license to test their new AM antenna at an elevated power level.
Technicians Install High
Efficiency AM Antenna near Knox, ME
BELFAST, ME: On August 10th, emergency managers in Waldo County, Maine, were issued a Special Temporary Authority (STA) by the Federal Communications Commission to test their RadioSAFE Emergency Broadcast System from a atop a mountain near Knox, ME. The two-day license allows the testing to be conducted with 200 watts of transmitter power – far exceeding the 10 watts normally allowed for a station of its class. This is the largest power output ever granted a Travelers Information Station. The closest contenders: 100 watts for LAX Airport in Los Angeles and the 100-watt temporary emergency station currently operating at Hudson County, NJ.

A waiver of the standard power and signal level rules was part of the authorization to conduct the test, and the County was required to provide engineering to demonstrate that interference to the signals of area broadcasters would not result.
Waldo County Emergency Management Director Dale Rowley and the HPR.0990 Antenna
Waldo County Emergency Managers normally operate the station at 10 watts or less, according to their regular license. But the High Efficiency HPR.0990 Antenna the County has installed is capable of significantly more, allowing for enhanced signal coverage during a future emergency – with FCC permission. The County is the first in the nation to employ the new antenna system. Other agencies installing these antennas are listed below.
Agencies Utilizing the HPR.0990 High Performance AM Radio Antenna
Alaska Aerospace Emergency Management
Auburn, WA Emergency Management
Birmingham, AL Emergency Communications District
Box Elder County, UT Emergency Management
Ford County, KS Emergency Communications
Foresthill, CA Fire Protection District
Lincoln County, ME Emergency Management
Ohio DOT District 4
Portola Valley, CA Emergency Committee
Surf City, NC
Sweetwater County, WY
Waldo County, ME Emergency Management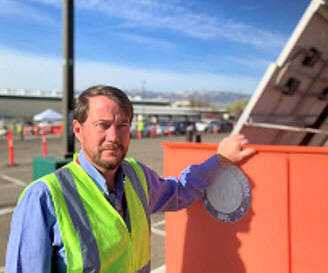 Stephen Shipman, Washoe County, NV, Public Health Emergency Response Coordinator
Communities aim to be
"Radio Ready" before the next round.
Preparing for new, vexing variants amid "regular" emergencies, agencies leverage grants to add radio to communication arsenals.
Cities and counties are making ready for the next round of communication challenges that involve getting critical safety information to locals in their vehicles. Some are inbound to COVID facilities. Some are outbound due to evacuations. Others lack a better means of receiving critical information. But COVID grants, available to local governments to help better communicate with citizenry, are being utilized to fund localized AM radio systems intended to bolster public health and safety – perhaps more so now because no one know what's next.

Edgar Ruiz, Emergency Manager with the Park and Recreation in Broward County, Florida, recently brought onboard five portable RadioSTAT systems to get information to locals lining up in cars for COVID shots at five county parks.

At the Upper Missouri District Health Unit in North Dakota, Executive Director Javayne Oyloe is distributing four RadioSTAT systems to her constituent counties in preparation for future situations.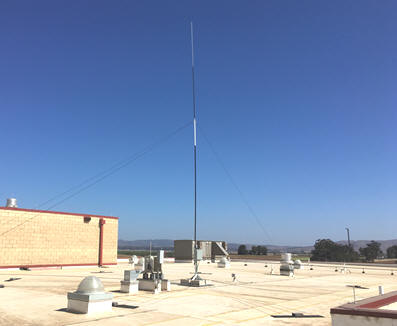 Santa Barbara County's Roof-Mounted AM Broadcast Antenna at Santa Maria, CA
In July, the Santa Barbara County Office of Emergency Management (OEM) installed three RadioSAFE Broadcast Systems in the County's challenging north county area, which includes communities such as Santa Maria, Solvang and Lompoc. Three more are planned for 2022. A spokesperson for the Agency tells The Source that the signals will be used for emergency preparation and for the ever-possible wildfire and earthquake evacuations. "And, of course, if we have future mass testing and vaccination operations," they add. "The broadcasts are controlled via network (IP) from the County offices in Santa Barbara."

Communities in the County's more populated "Front Country" area have operated similar systems for 20 years. The OEM intends to integrate these radio stations in Montecito, University of California Santa Barbara and San Marcos Pass into the new emergency radio network. "We have very limited egress from many of our communities," an agency spokesman points out. "And especially when US-101 gets blocked by heavy traffic, there are very few ways to get into and out of places like Santa Barbara." The 100,000 acre Thomas Fire in 2018, required the evacuation of the cities of Montecito and Carpentaria and the complete closure US Highway 101 for an extended period.

Just to the Southeast, the City of Malibu has also secured an AM frequency in the anticipation that it may be needed for evacuation information. US-101 is the only means of egress from Malibu, and based on the situation, drivers need minute-to-minute intel on the direction to drive that will yield the best result. If implemented, the City will employ a High Efficiency HPR.0990 Radio Antenna to effect wide-area signal coverage.
Smoke from the Woolsey Fire near Malibu in 2018 billows above evacuating residents.
Cyclonebiskit, CC BY-SA 4.0 via Wikimedia Commons
Washoe County, Nevada, which includes the City of Reno, had the foresight to obtain four portable Emergency Radio Systems on trailers a decade ago and has utilized them heavily of late during mass testing and vaccination efforts. Public Health Coordinator Stephen Shipman works beside his Amateur Radio Emergency Services (ARES) Organization to deploy the units when and where needed.

The Bay Area Community of Fairfield, CA, has just been granted the emergency temporary authority to operate their city's Information Station at a higher signal level than would normally be allowed. This special FCC license permits Communications Manager Bill Way to speak to motorists more effectively on Interstate 80, which bisects his community, when the presence of wildfires bring traffic to a crawl . Says Way, "After last years' LNU Lightning Complex Fire, we determined an emergency radio broadcast would've increased our reach to all audiences, especially during an evacuation."

Not far from Fairfield, Placer County Radio Services Division rented an EventCAST Radio System for three months to inform citizens arriving at their vaccination site near Roseville. The County has submitted for funding to purchase a RadioSTAT portable system that can roam their expansive county to assist with communications in future emergencies of all kinds. The Governor's Office of Emergency Services in California took the same approach at vaccine distribution sites in Los Angeles and Oakland. Rental radio systems typically include a temporary FCC license that is specific to the application, and assistance with broadcast message production.
Information Radio Stations is a generic term synonymous with Travelers Information Stations (TIS), Highway Advisory Radio Stations (HAR) / Highway Information Systems & Low Power Radio Stations (LPR). Operation of the stations is governed by FCC Part 90.242 Rules. A FCC license is required. Information Radio Stations may be fixed or portable. Subcomponents may include transmitter, antenna and ground system, digital voice player, wattmeter, cabinet with conventional or Corbin locks, lightning arrestors for RF, power and telephone lines, coaxial cable. Most stations employ black maximized antennas to discourage ice accumulation and security measures to prevent unauthorized program access. Options include synchronization, battery backup, solar power, remote programming by local, network or telco, multi-station audio distribution via RF or LAN / WAN or wireless network.