Safety Radio Stations Go Viral
COVID-19 Test Sites Rely on Radio
Drive-thru virus testing sites in virtually every state are employing

license-free radio technology

to get safety and procedural information to motorists who continue to queue up. In New York State, lines have snaked for miles approaching sites in Rochester, Albany and Jones Beach. On the other coast, parking lots at Dodger Stadium have gone into extra innings to accommodate the demand, utilizing radio to inform those arriving for tests.


The three Mount Carmel Hospital campuses in Ohio added similar technology in the Columbus area. Mount Carmel's system features portable antenna stands that can be deployed quickly.

The Central Valley Health District in Jamestown, North Dakota, will be deploying a

portable system

in a wheeled case with a quick-set-up antenna that they can move from facility to facility as required. Agencies like Central Valley are getting their communication strategies prepared for Points of Dispensing (PODs) that will be required once a vaccine becomes available.
FCC Approves Emergency Power Increases for Information Radio Stations
The Commission has granted signal increases on an emergency basis for certain licensed information stations that have applied for the authorization.

Hudson County, New Jersey, has emergency authority at this time to run at 100 watts to boost coverage in their densely populated county – a 10X-fold power increase. Hudson's system was the prototype for the RadioSAFE wide-area coverage format, which is based on higher-powered transmitters and antennas that can be utilized with FCC permission in a crisis.

Communities of Portola Valley and Antelope Valley, California, have been granted emergency authority to operate at their full 10-watt capabilities, allowing their signals to exceed the normally allowed limits to better blanket their jurisdictions.
Waldo County EMA to Test First RadioSAFE Wide-Area Station
Emergency Managers in this county in Coastal Maine are completing the Nation's first RadioSAFE Broadcast System, which has the capability for full-county emergency coverage at up to 300 watts on 530 kHz. There are no other broadcast stations on that frequency the United States, making it a good candidate for a wide-area coverage service. Licensed currently at up to 10 watts for daily operation, emergency managers plan to test the system at the higher power with FCC approval this September.

Left: The Nation's first RadioSAFE Broadcast Antenna is installed on a hill overlooking Waldo, County, Maine.

Right: Workers install RadioSAFE HPR.0990 Broadcast Antenna for Waldo County EMA near Knox, Maine.
Communities that Saw this Coming a Decade Ago
Many local emergency managers and public health officials already operate licensed, information radio stations, having secured frequencies from the FCC well in advance - just in case a crisis like COVID-19 would land on their doorsteps. Most of the antennas are fixed-location, but some have the potential also to be portable, so they can be shared with adjacent communities or moved to areas of immediate concern. Many of these stations have been called into quick action to keep the public informed of myriad changing regulations, test site locations, closures and evolving personal safety requirements.

"Radio helped immeasurably to fill the information gap created by the realities of this lock-down."
Richard Phoenix – Borough of North Plainfield, NJ

At North Plainfield, New Jersey, the City's Information Station on 1630 AM and their simulcast internet "StreamCAST" are being employed to keep families in the loop regarding topics such as the recent changes in their student food program. The service has also served as a way to get messages to citizens about how to donate personal protective equipment to the local hospital. North Plainfield knows the word is getting out, because they can monitor the increasing number of residents who tap into their StreamCAST program daily.

Operator Richard Phoenix observes, "Local information is king, and, with our radio station and streaming service, we are providing key information to our people just when they need it." **

At Hendricks County, Indiana, amateur radio volunteers are assisting emergency and health managers with moving their portable RadioSTAT Radio System to outbreak areas, as required. The County plans to permanently install the system at the local hospital in Danville, Indiana, while keeping the flexibility to move the service if required.

Communities who are in need of these radio services immediately due to the present emergency can obtain portable radio systems such as EventCAST from provider Information Station Specialists on a contract basis.



(**) If your community operates an Information Radio Station, you can keep in touch with changes the rules and technology by joining

AAIRO.Org

– which also guarantees you a copy of

The Source. AAIRO has the benefit of a no-charge message recording service offered by the nonprofit organization.



* * *




New Product Update
Innovative Storm Detector Makes Faster Weather Alerts Possible
Finally, there is a device capable of alarming on the approach of dangerous weather without the need to be triggered by the National Weather Service or an internet app. Users report receiving notifications in some cases before they are issued by NOAA/National Weather Service.

From Jeff Gill in North Carolina: "Last night about 7:45 PM my Severe Storm Detector alarmed with

'TORNADO RISK'

on the display. About 5 minutes later, my NOAA Weather Radio Receiver alarmed with a

'Tornado Warning'

for our county. I thought you should know. This detector alerted me a full 5 minutes ahead of the Weather Radio."

Emergency management in Tampa, Florida, is testing 10 units currently, distributing them to the managers at mobile home parks that are vulnerable to high winds and violent storms.

A video explaining the operation of a Severe Storm Detector is now available. The units are currently being offered at a discount. Visit SevereStormDetector.com to learn more.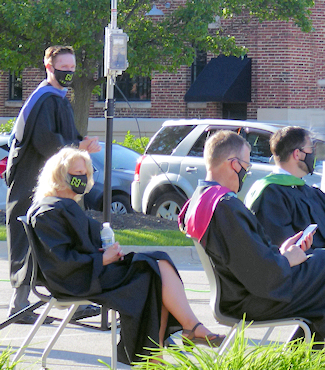 Principal Dan McMinn stands observing as the InfOspot Antenna System transmits graduation proceedings at NexTech High in Grand Rapids, MI.
Dashboard Distancing
Radio Rediscovered by Churches, Schools, Cemeteries and Nonprofits as Go-To Medium for Ceremony Safety
It's a remarkable acknowledgment: the AM radio medium – 100 years old in 2020 – continues to be most convenient and universal means of getting audio programming into cars. Thousands of pop-up, license-free radio stations have appeared in the parking lots of churches, schools – and even cemeteries – to allow people to attend services and ceremonies safely. Ironically, the medium that has brought us to together since 1920 has demonstrated that it is also remarkably good at communicating with us separated.

Schools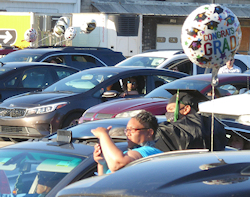 Families and graduates listen to a graduation ceremony while distancing in their cars, mixed with the caps and gowns, balloons and window signs.
At Dallas Baptist University, administrators took advantage of FCC rules allowing educational institutions to broadcast on-property, so the University's large graduating class students could grab diplomas as they snaked past a makeshift stage in a "Commencement Parade." The school employed the EventCAST LIVE System to pull off the transmission in real time.
Workers assemble the EventCAST LIVE Antenna for an event.
At the other end of the spectrum: Grand Rapids Michigan's NexTech High School only had a graduating class of 35, but to each of those 35, the ceremony was no less significant. Principal Dan McMinn: " The skies were blue and the families were able to drive in and take over the parking lot, while our seniors were able to have their moment in the sun. NexTech was able to share the ceremony with families that may not have been able to attend in a traditional manner." The high school employed the company's license-free InfOspot System to do the transmission under a separate FCC license-free rule section.

In the examples that follow, one of these two aforementioned radio systems are employed to make the broadcasts happen.
Churches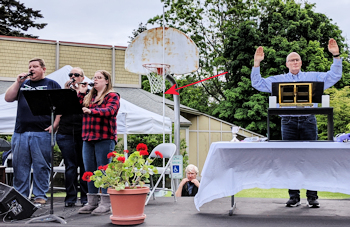 Arguably the most prolific and avid advocate for localized radio are churches and synagogues, many of which are broadcasting the audio feed from their services into parking lots. Says one church spokesperson from Gig Harbor, Washington: "We connected a small mixer for a keyboard and singers and wireless mic receiver for the pastor. Everything worked flawlessly."
Sprawling Saddleback Church utilized the EventCAST System at their main campus near Lake Forest, California, for a drive-in communion service attended by hundreds of participants.
Cemeteries

How does one proceed with a burial service, when the "dearly beloved gathered here" can number only ten? Companies such as Dignity Memorial and Family Legacy have turned to radio to broadcast services to people attending at a safe distance. Portable radio systems are transported to each gravesite and connected in tandem with the sound systems normally used. At Wisconsin's Memorial Park near Brookfield, Wisconsin, a permanent 24-7 broadcast also provides a tour of the historic cemetery for on-property visitors. A special program allowed Memorial Day visitors to participate via special programming created for that weekend.
AM vs FM?

Why is the AM band favored over the more widely used FM band for these license-free radio stations? It all comes back to the way the FCC wrote the rules in "Part 15." In this white paper on the topic, wireless tech consultant Paul Dubosz of PD Technologies explains why AM radio systems have a "leg-up" on their FM counterparts.
Meetings and Special Events

Agencies as varied as the City of Riverside, California, to the Delaware River Joint Toll Bridge Authority in New Jersey are convening meetings in vehicles that are normally held indoors Del Mar Fairgrounds, the site of the San Diego County Fair, had to cancel the Fair this spring but this summer will hold movie and family events in large lots, so attendees can participate "in vehicular."

At Tulsa Community College in Oklahoma, the symphony orchestra will be performing this summer not only "under the stars" but also "into in cars" for patrons who come to lot-based performances.
Information Radio Stations is a generic term synonymous with Travelers Information Stations (TIS), Highway Advisory Radio Stations (HAR) / Highway Information Systems & Low Power Radio Stations (LPR). Operation of the stations is governed by FCC Part 90.242 Rules. A FCC license is required. Information Radio Stations may be fixed or portable. Subcomponents may include transmitter, antenna and ground system, digital voice player, wattmeter, cabinet with conventional or Corbin locks, lightning arrestors for RF, power and telephone lines, coaxial cable. Most stations employ black maximized antennas to discourage ice accumulation and security measures to prevent unauthorized program access. Options include synchronization, battery backup, solar power, remote programming by local, network or telco, multi-station audio distribution via RF or LAN / WAN or wireless network.