Annual Hamvention Event Uses Radio Broadcasts to Counter Congestion
Amateur Radio Convention uses (of all things) radio to inform inbound event attendees.
XENIA, OH: Like a match made in – well, Ohio – Amateur Radio and Information Radio were on display at the same venue in 2018. Last year's Amateur Radio "Hamvention," that happened near Dayton, Ohio, utilized an Information Radio Station on AM 1620 as a new tool to push out traffic, parking and event details to attendees, as they approached the Greene County Fairgrounds and Expo Center. The service is planned again for this May at the national event.
Perhaps it's good that Xenia's name means "hospitality," because the town braced to host an influx of nearly 30,000 "HAM" radio operators – roughly doubling its population for the weekend. Due to the web of two-lane roads that serves the venue, a shuttle-bus operation was set up to alleviate traffic congestion. Helping people understand the need to park at the special shuttle lots and how to find them was a key goal of the new radio service.
Coverage of Hamvention's Info Station on AM 1620 in Southern Ohio - click image to view
The Information Radio signal blanketed Xenia and 3-5 miles into surrounding Greene County, Ohio, directing approaching motorists to the five special park-and-ride facilities.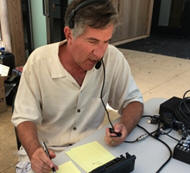 Portola Valley, CA's, Amateur Radio Operator Mark Bercow (W6MSB) at Work
2017 was Xenia's first experience with the event, and while largely positive, traffic and parking operations were not without hiccups. It is hoped that adding the radio service will help congestion and give event organizers an additional way to reach attendees as they arrive to park.

The 2019 Hamvention will wrap in the annual meeting of the national association for Amateur Radio (ARRL), which could add a new wrinkle – or wave.
Long Beach Grand Prix Participant
"Just-in-Time" Info Stations Add Event Efficiency & Security
Special events and destinations using radio broadcasts to relay details and updates to visitors just as they arrive.
WEST PALM BEACH, FL: What did they say on their website? It's hard to recall. What does it cost to park? Can I bring in my cooler? Will the weather affect the show time? Many special events and special places are answering those last-minute questions using patrons' car radios rather than on their smart phones.
The reasons are many:
The ideal time to get parking, directions, safety and schedule details to a visitor is when he or she actually needs the information – which is at the time of arrival.
Trying to use a smartphone while driving is inefficient, unsafe and illegal in many places.
Radio messages can be written to focus on the most important information that arriving patrons need, such as parking and directions, and can be repeated multiple times to help listeners retain the info.
Messages delivered by radio can save lives, if safety personnel need to re-route traffic or clear the venue due to an emergency.

Changeable Message Signs invite inbound attendees to tune in.
The South Florida Fair near West Palm Beach experienced record crowds again last year and is about to begin its 2018 run. Director of Safety and Security Randy Hoffer states, "The ability to communicate safety and schedule information, along with traffic directions, makes the radio medium a perfect match for our venue." The premier winter event draws more than 400,000 visitors annually and has utilized a rental radio system (

EventCAST) for the past three seasons. "We're so happy with the results that we've purchased a permanent antenna system and a 10-year FCC license. Guiding our patrons to the proper parking areas throughout the day is vital. Nobody likes to wait in a line of cars. Our radio solution is central to our strategy on traffic control and flow patterns for our patrons." The 1690 kHz signal covers 5 miles in all directions – more than sufficient to talk to inbound patrons as they exit Florida's Turnpike and I-95, both of which run just to the east of the Fairgrounds.

In April, the Grand Prix of Long Beach, California, revved up their annual road race. It will be the fourth year running in which the Grand Prix has utilized a similar radio broadcasting system for public information during the event. The city invested in RadioSTAT technology in 2015 to provide the coverage. "The system was an excellent investment," states Communication Manager John Black. "The coverage is phenomenal and it's absolutely unbelievable that a 10-watt signal can be heard nearly 6 miles away in an urban environment with many tall buildings." The broadcast informs visitors and locals of the event schedule and the numerous detours that go into effect when city streets are repurposed as part of the race course.

The technology employed falls under the FCC's "Travelers Information Service" (TIS) rules and is generally licensed to the community where the event takes place. Some venues continue to operate their systems in association with their host community for general visitor and local event information all year.
Safety: A Fair Question
The Texas State Fair expands its Info Radio Service to protect guests.
DALLAS, TX: On October 19, 2012, visitors to the Texas State Fair watched in disbelief as their historic 5-story talking mascot caught fire before their eyes. "Big Tex," the Fair's gargantuan greeter and personified public address system, had experienced an electrical fire that forced him into early retirement at age 60.

The same year, the State Fair launched an Information Radio Service whose parallel job it is to welcome and inform patrons – though over a much larger area. The 1650 kHz signal is heard all around downtown Dallas each summer and fall. The "howdy pardner" style broadcast directs motorists to available parking lots and suggests efficient travel routes in a distinctly urban environment.

The next summer the Fair made their broadcast antenna and their FCC license permanent, expanding the operation dates to coincide with "Summer Adventures at Fair Park," which runs through August.

The Texas event joins the South Carolina and Kentucky State Fairs, which have employed Information Radio Stations in the recent past, to prepare patrons with event parking and traffic info, as they approach the state fairgrounds. Should visitors be required to exit parking lots due to an emergency, the service can become a critical conduit for public safety information for motorists in harm's way who might be required to take alternate routes or who could become gridlocked.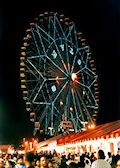 Large gatherings, including major golf tournaments and music festivals, have provided this service to visitors in the past, and so have smaller ones. In June 2013, the Douglas County (Nebraska) Department of Emergency Management employed a portable Information Radio Station to inform and advise 30,000 visitors at the College World Series games in Omaha. Allegan County, Michigan's Department of Emergency Management provides a similar service to alleviate traffic congestion at an annual music festival "Birthday Bash," which draws 70,000 people. The Farm Progress Show in Decatur, Illinois, reaches out to its 150,000 attendees using the EventCAST Radio Station (rental) provided by Information Station Specialists.

Meanwhile, the Texas State Fair continues to upgrade and enlarge their Information Radio Service for patrons. And Big Tex has returned too – with all new wiring – to keep guests informed and safe and providing them an occasional "howdy" along the way.
© 1983-2022 •

Information Station Specialists, Inc.

• All Rights Reserved
PO Box 51, Zeeland, Michigan, USA, 49464-0051, Phone 616.772.2300, Fax 616.772.2966,

Email the Editor: info at theRADIOsource.com



• • •

Information Radio Stations is a generic term synonymous with Travelers Information Stations (TIS), Highway Advisory Radio Stations (HAR) / Highway Information Systems & Low Power Radio Stations (LPR). Operation of the stations is governed by FCC Part 90.242 Rules. A FCC license is required. Information Radio Stations may be fixed or portable. Subcomponents may include transmitter, antenna and ground system, digital voice player, wattmeter, cabinet with conventional or Corbin locks, lightning arrestors for RF, power and telephone lines, coaxial cable. Most stations employ black maximized antennas to discourage ice accumulation and security measures to prevent unauthorized program access. Options include synchronization, battery backup, solar power, remote programming by local, network or telco, multi-station audio distribution via RF or LAN / WAN or wireless network.