That's a Lot of Signal
Literally. This new quick-deploy radio station is specifically for parking-lot-sized applications.
Emergency, health and school officials have requested a highly portable, short-range radio system for some time now. Schools have envisioned one that can be used to communicate with parents arriving at reunification sites after school tragedies; for emergency managers, a way to talk to people who show up at evacuation meeting sites; for health officials, a means of informing motorists who line up at points of medicine distribution (PODs) or treatment centers.
The result: the InfOspot Portable. Developed at the request of Hennepin County (MN) Department of Emergency Management, the high flexibility system includes a quick-erect antenna stand and easy-to operate electronics in a portable shock case. Range is up to ½ mile, any frequency may be selected and an FCC license is not required per FCC Part 15.219. Broadcast messages can be sourced from a flash drive, external source, cellular gateway or live via a sound board. The system is priced at ¼ of the licensed Information Stations that have been available for this application to date. Email Information Station Specialists for more information.


Innovative Funding Options

Equipment and services provider Information Station Specialists has introduced a lease-to-own financing plan for agencies who wish to obtain radio and related systems but don't have grant opportunities or available budget. The short 6-year agreement averages between $7 and $19 a day for Information Station Specialists' most commonly purchased information radio systems

For agencies that would be required to issue requests for quotes, the "H-GAC Buy" buying cooperative may be an attractive option. If an agency is (or becomes) an H-GAC Buy member, they can purchase products against an existing contract, circumventing the need for a competitive procurement process.

Contact the company to find out more.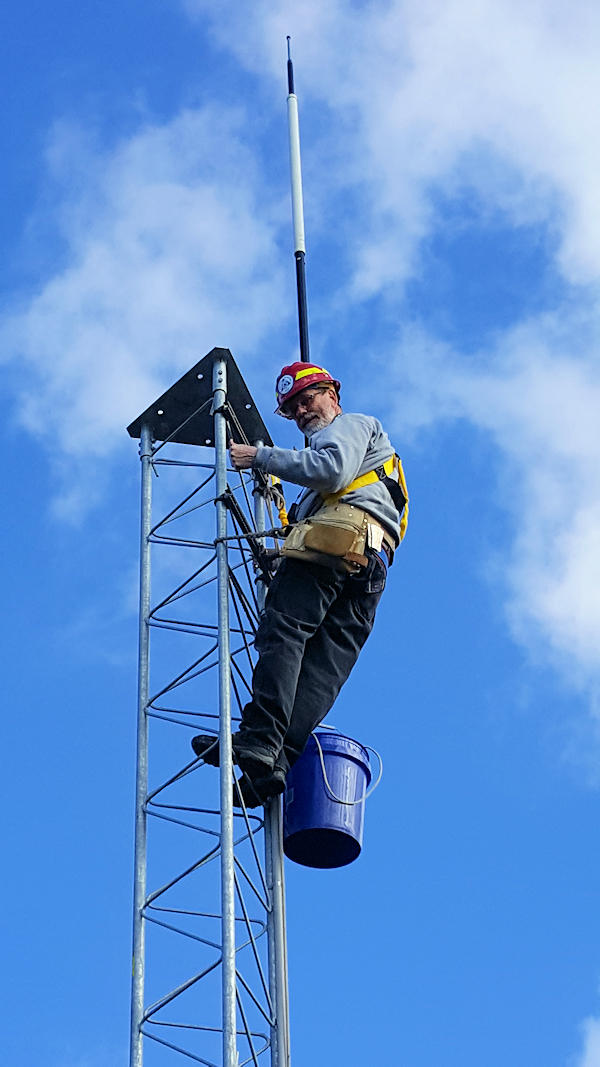 John Whitehouse installs the Information Station antenna on a tower at Mount Mitchell State Park.
Mount Mitchell Adds Radio to Maximize Visitor Safety
North Carolina's First State Park Notches Another "First"
ASHEVILLE, NC: The installation of an Information Radio Station at Mount Mitchell State Park in North Carolina has been completed just before the snow flies. Located on the peak of the highest mountain east of the Mississippi River, the station will be tasked with keeping visitors safe and informed as they snake up the steep access road from the Blue Ridge Parkway to the Observation Deck – 6684 feet above sea level.
Stunning View from atop
Mount Mitchell's Information Radio Tower

Foreground: antenna & visitor center
Background: Black Mountain skyline
Alan Orovitz, Friends of Mount Mitchell State Park member and technical advisor, spearheaded the project, providing guidance for the station's antenna location and its innovative audio management system. Costs were mitigated through the purchase of key preowned/certified RF components from provider Information Station Specialists.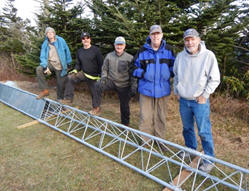 Posing with the station's support tower prior to installation (left to right) Tim Clark, Rick Harkins, Joe Lappin, Duke Rose and Alan Orovitz – all with Friends of Mount Mitchell State Park
A triangular steel tower was erected to support the antenna, instead of the conventional wood or aluminum pole, due to the high winds that can be present atop Mount Mitchell. After the tower was erected and the antenna tuned, Orovitz reported to The Source that a robust signal can be received at the Park entrance, located on Highway 128 and the Blue Ridge Parkway, 2 miles away down the mountain.

Full coverage of the park's entrance road is important, so visitors can be apprised of adverse or changing conditions as they ascend to the summit. In a climb of that magnitude, road conditions can go from dry to icy before drivers know it. Another goal of the broadcast is to orient visitors, directing them to continue past the park office, restaurant and campground all the way to the summit's observation deck, where the best views can be taken in. According park staff, the scenery along the route is so stunning, that some visitors pull up short, take their pictures and turn around, not realizing that the best views are at the top of the mountain – just ahead.
Opinion
All-digital AM is coming –
but not to worry.
How will digital broadcasting on AM affect Information (TIS/HAR) Radio Stations?

WASHINGTON, DC: Just before Thanksgiving, the FCC opened up a "Notice of Proposed Rulemaking" seeking comment on the advisability of allowing full-power broadcast radio stations the option to migrate from analog to all-digital. The National Association of Broadcasters (NAB) has signaled that it will support the effort, which all but guarantees that it will roll forward in some form or another. But how could this change impact 10-watt (TIS/HAR) Information Radio Stations?


Answer: Most 10 watt Information Radio Stations will see no adverse effects. Why?

AM Receivers The main reason is because the change to "all-digital" affects only specific broadcasters. It does not affect the ability of existing (and future) AM radio receivers to receive analog AM radio signals. Yes, even future "HD" (digital) radio receivers will not be "all digital." They will still continue to pick up analog AM signals in addition to digital ones.

10 Watt Information Stations will not be required to make any changes of any kind. They will remain 100% analog. That means they will continue to be receivable on all AM receivers.

AM Broadcasters Commercial AM broadcasters will not be compelled to make the change to all-digital. It will be totally optional. So, in real-world terms, the broadcasters with the deepest pockets and in the most competitive markets will be firt to make the cut-over. That means you can expect to see it happen initially at the big city AM stations. Due to the 5-figure cost for a broadcaster to make the upgrade, it remains to be seen if the conversion will penetrate to marginally profitable radio stations in smaller cities and rural areas.

Increased noise? The new digital format (which is named "MA3") that will be employed by broadcasters could affect a few Information Stations. But like the proverbial slot machine, the cherries would have to line up just right for it to be an issue. The broadcast station would have to be 1) in the immediate area, 2) on the first adjacent frequency, and 3) would have to add digital side-bands – which not all broadcasters will do. Digital sidebands will double the digital station's bandwidth and could cause noise to Information Stations on next-door frequencies, if they are really close by.

Digital downside? It's the opinion of the American Association of Information Radio Operators (AAIRO) that the real risk of an All-Digital AM conversion is not to Information Stations but to the broadcasters who choose to make the change. Certainly they will reap the quality and bandwidth benefits for a not-so-small investment. Someday they will be able to play music again and may have multiple program streams. But listeners who have digital AM radios won't notice much of a difference if their favorite station goes digital, especially if the format is news-talk – like most AM's are today. Voice quality on analog AM is already pretty good. And because only 18% of cars on the road have digital-capable receivers, if a broadcast station made the cut-over today, it would instantly evaporate 82% of its audience , chasing the majority of the listeners to FM, satellite radio – and, ironically – to AM competitors that choose to remain analog.

Emergency Consideration As pointed out by Paul Riismandel in his recent Radio Survivor blog entitled, "Can We Save AM Radio by Killing it?", one of the worst results would be if during an emergency, local listeners would fire up their battery-operated analog radios only to find that their local radio broadcaster has gone-all digital. Instead of updated news and emergency information, they would receive an amorphous mass of digital hiss.

That could be an unintended – but very real – consequence of the all-digital AM conversion, which would serve to underline why localized Information Radio Stations (TIS) could be the real lifesavers when their communities count on them most.
© 1983-2021 •

Information Station Specialists, Inc.

• All Rights Reserved
PO Box 51, Zeeland, Michigan, USA, 49464-0051, Phone 616.772.2300, Fax 616.772.2966, Email

• • •

Information Radio Stations is a generic term synonymous with Travelers Information Stations (TIS), Highway Advisory Radio Stations (HAR) / Highway Information Systems & Low Power Radio Stations (LPR). Operation of the stations is governed by FCC Part 90.242 Rules. A FCC license is required. Information Radio Stations may be fixed or portable. Subcomponents may include transmitter, antenna and ground system, digital voice player, wattmeter, cabinet with conventional or Corbin locks, lightning arrestors for RF, power and telephone lines, coaxial cable. Most stations employ black maximized antennas to discourage ice accumulation and security measures to prevent unauthorized program access. Options include synchronization, battery backup, solar power, remote programming by local, network or telco, multi-station audio distribution via RF or LAN / WAN or wireless network.