This new communication tool is "old school". . .
But it bridges the gap between interpreters and visitors.
The new InfOspot License-Free Radio Station is inexpensive and easy to use with custom options.
Although it has been in use by interpreters for more than 20 years, the InfOspot License-Free Radio Station that is being re-introduced by Information Station Specialists is a much improved entry – with enhanced audio, flexibility and range. Parks, historic sites, wildlife viewing areas, unattended visitor / nature centers and interpretive kiosks commonly employ these micro-radio stations to get aural interpretation to people in cars approaching, parking or traveling through sites. Each InfOspot station has up to a half-mile range and, coupled with instructive signs, can be a useful tool for instructing and providing visitors information about the site ̶ especially in ADA applications.

There are few restrictions on content, per FCC Part 15 Rules, which allow an operator to include music or even sponsorships to defray costs.

One of InfOspot's newest subcomponents is its RE 2.5 Range Extender Outdoor Antenna and Tuner with coaxial cable connection. InfOspot is the only certified license-free radio system with a coaxial cable link in its FCC-approved design. This allows the transmitter to operate in a protected location that can be conveniently monitored – safe from theft, wind damage, moisture intrusion and lightning. It also allows the transmitter's antenna to be positioned at a high point on a building or pole, enhancing range. Several options are available to customize an InfOspot station packages to exact application needs, including audio quality and connectivity enhancements; outdoor cabinets, and more.

With all these advancements, cost has been contained to less than $500 for a basic station package that includes lifetime product support, the transmitter with its internal dual-message digital audio player, the new Range Extender Antenna/Tuner with mount and 25' of RG6 coaxial cable.

On August 5th the Hobby Broadcaster Part 15 website/forum evaluated the new Range Extender, comparing it to its predecessor, and published this review.


In-Use Examples
Savannah National Wildlife Refuge chose InfOspot instead of the Internet to deliver interpretive messages to visitors as they view wildlife on the Refuge. Visit "Interpretation Inspiration."
Zane Grey House and Museum along the Upper Delaware River in Pennsylvania, has a sign encouraging visitors to "Tune AM Radio to 530," when the museum is not open. See "License-Free InfOspot Informs When Museum Is Closed."

Cleveland Metro Parks in Ohio offers visitors self-led tours right in their vehicles, so they can move at their own pace along the band of parks that loops the City. Each stop has a 5-minute message that repeats, imparting treasures of the area. See an overview story.

Nez Perce National Historical Park in Idaho has operated an InfOspot system since 2007 to interpret sites whose isolation and absence of visitor services pose particular management challenges. The Park's existing transmitter has operated four years without interruption, in all weather; and the Park's confidence in the system led to expanding it to several locations. See a summary.

Learn more about InfOspot here. If you would like to discuss the best type of station for your application, email or call Bill (616. 772.2300 x102) at Information Station Specialists.
Visitors flock to parks and wildlife areas, challenging local information resources.
Managers of remote wildlife viewing areas and parks are tasked with communicating with the two-legged wildlife enthusiasts as they arrive to view the local feathered and furry varieties. Many facilities – especially the ones with little or no cell coverage - are increasingly turning to Information Radio Stations to reach visitors. The technique alleviates demands on staff, while making possible the dissemination wildlife and visit information 24/7. . See a few examples below.

Flying Fowl a Frequent Favorite
Migrating geese attract thousands of birdwatchers to
Middle Creek Wildlife Management Area in Pennsylvania.
Each February, 135,000 geese and tundra swans migrate en masse to one of their favorite resting places, Middle Creek Wildlife Management Area. As the number of waterfowl increases, so does the visitor population ̶ up to 250,000. So Pennsylvania Game Commission erected an Information Radio Station (ISIP) to help control the situation and enhance guests' experiences.

"Our rules and regulations can be confusing if you are not a 'frequent flyer' here," advises Visitor Center Manager Lauren Fenstermacher. That is why the Pennsylvania Game Commission installed a state-of-the-art Information Radio Station at the wildlife management area in the off-season to help ease the communication burden. An informative "audio tour" broadcast is heard up and down the entire wildlife viewing road on AM 1620, so that when visitors leave the visitor center, they can listen continuously as they tour. This allows center staff to focus on answering visitors' questions rather than repeating the same general information for them so often. The 11-minute audio tour broadcasts – 24 hours a day – 365 days a year.
Elk Have Antlers ̶ and Antenna Too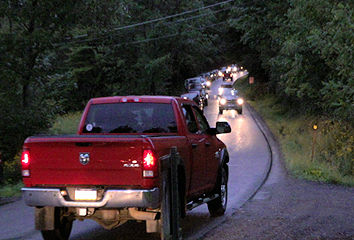 Traffic tangles on Winslow Hill Road as visitors stake out spots to view elk.
Each year, thousands of elk fans clamor on two-lane roads to remote Winslow Hill Elk Viewing Area in Pennsylvania. See what state spokesperson Mandy Marconi says about why Pennsylvania Game Commission decided to get an information radio station.
Flocking Visitors Cause Overloads
On fall weekends, thousands of Ohioans drive to places where their smartphones and devices are not designed to work. They take a network of two-lane roads to beautiful locales that feature fine fall foliage nestled in steep terrain.

Hocking Hills State Park, a premier destination, offers camping, fishing, hiking, cottages, dining, a visitor center and even a swimming pool. The state's Department of Natural Resources broadcasts to people approaching the Park via information radio technology in an attempt to keep them apprised of parking and traffic issues, before they get gridlocked…and frustrated. Learn more.
Bison Drive Info
Minnesota's Minneopa State Park operates an
Information Radio Station
on 1610 AM to educate and inform park visitors who can drive their vehicles through a new bison viewing area. The first eleven animals were recently introduced into the Park and are rare in that they are genetically very close to the original American Plains bison. The herd is expected to grow to 30-40 animals. Minneopa's location, only 90 minutes southwest of Minneapolis-Saint Paul, will allow many to experience bison in a native habitat, on a day-trip. According to Minnesota DNR Regional Naturalist Alex Watson, "An information radio station was the safest option to deliver information to users who spend time along the road searching for wildlife. This station helps answer visitor questions and saves time for our staff.
See a list of Information Stations in national places. Information Radio Stations are available for puchase or rental by government agencies. Content must be noncommercial / voice-only. Information Station Specialists can help you explore ideas for your application; call 616.772.2300 x102 or Email us.