Heading for the Hills
Weekend visitors flock to Ohio's Hocking Hills State Park causing overload concerns.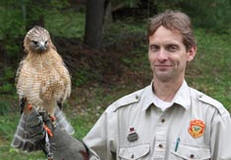 Naturalist Pat Quackenbush and Friend
LOGAN, OH: On fall weekends, thousands of Ohioans drive to places where their smartphones and devices are not designed to work. They take a network of two-lane roads to beautiful locales that feature fine fall foliage nestled in steep terrain, which sets the scene – but also blocks cell signals.
Ash Cave in Hocking Hills State Park
One such venue is Hocking Hills State Park near Logan, Ohio. A premier destination, the Park has multiple public-use areas offering camping, fishing, hiking, cottages, dining, a visitor center and even a swimming pool. A new visitor center is currently under construction – something patrons need to know. The state's Department of Natural Resources will now reach out to people approaching the Park via information radio technology in an attempt to keep them apprised of parking and traffic issues, before they get gridlocked…and frustrated.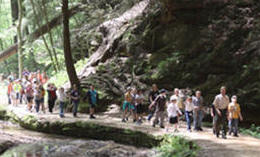 A Ranger-Led Hike in the Hocking Hills
On key autumn weekends, the Park's well known Old Man's Cave area has been filling up early causing long lines on area roads. Until now, there has not been a means of reaching inbound visitors to let them know that the parking lots are full, allowing them to divert to one of the other recreation areas nearby until congestion at Old Man's Cave eases. In fall 2017 the Park utilized a temporary EventCAST System to meet the need and intends to make the service permanent in the near future.
Snow Geese at Middle Creek Wildlife Management Area
Layover Logistics
Flying Fowl a Frequent Favorite
KLEINFELTERSVILLE, PA: Now is the time of the year to seek out rural Pennsylvania if you want to experience more geese and swans than you can shake your figurative stick at. Since the groundhog has signaled that spring is on the horizon, the waterfowl have started migrating north, and Middle Creek Wildlife Management Area is one of their favorite "rest areas." Where is Middle Creek? In the middle of nowhere. And that is just how the visiting birds and birdwatchers like it.
"We have 135,000 snow geese here right now and with that, hundreds to thousands of visitors daily," states Lauren Fenstermacher, Middle Creek's Visitor Center Manager. "This is a large migration of snow geese and tundra swans. And when the waterfowl increases, so does visitation." The 6,000-acre wildlife area logged more snow geese this winter than any in recorded history – in excess of 200,000. That doesn't include the tundra swans and Canada geese that show up. Then there are the 250,000 human guests the Center logs annually. That's a lot of activity.
Click thumbnail below for larger image.
Middle Creek Wildlife Management Area is convenient to many in Eastern Pennsylvania.
"Our rules and regulations can be confusing if you are not a 'frequent flyer' here," advises Fenstermacher, "and they are all here to see the wildlife." That is why the Pennsylvania Game Commission installed a state-of-the-art Information Radio Station (ISIP) at the wildlife management area in the off-season to help ease the communication burden.

The informative "audio tour" broadcast on AM 1620 is heard up and down their entire wildlife viewing road so that when visitors leave the Center, they can listen continuously as they tour. This allows the Center staff to focus on answering visitors' questions rather than repeating the same general information for them so often. The 11 minute audio tour broadcast now does that – 24 hours a day – 365 days a year.
Middle Creek wants guests to stay clear of sensitive propagation areas where, well, propagation takes place.
The broadcast's three goals: The first is basic education on how to experience Middle Creek – information visitors need such as directions, visitor center functions and hours, seasonal road closures and important things not to do while visiting the sensitive environmental area. These functional facts are repeated three times during the production due to their importance. Interwoven as feature segments are wildlife info and viewing tips for the current season along with special segments describing the history and development of the facility.

Four different announcers are employed to add variety and maintain interest; and the station's TR.6000 HQ 5.0 Transmitter is employed to deliver broadcast quality wide-band audio. Listen to the broadcast.
Tundra Swans
Lauren Fenstermacher adds "This service just went on the air this weekend, and we already have gotten many positive and enthusiastic responses. This is going to completely change how people visit Middle Creek." She tells The Source that a number of other wildlife areas in the state are keeping an eagle eye on Middle Creek's radio project.
Quick Ones
Grand Canyon Info Station Shuts Down the Shut-Down Rumors
TUSAYAN, AZ: Visitors approaching Grand Canyon National Park recently were advised of the Park's status during the recent "government shut-down." The park utilized their information radio station on 1610 AM and a changeable message sign to advise approaching motorists about changes would result from the temporary "closure." As it turned out, only certain services were unavailable and the Park itself was not closed – a fact that many in the public were uncertain of.

The special radio station is made possible by Information Station Specialists' EventCast Service and is relied upon during high visitation months to encourage guests to park their cars in the Town of Tusayan and take the bus into the Park. The broadcast gives motorists details about where to park and when the busses run – to make operations more efficient and to minimize pollution from automobile exhaust.
Bison Antenna Y'all!
Typical American Plains Bison at Home on the Range
MANKATO, MN: Minnesota's Minneopa State Park is now operating an Information Radio Station on 1610 AM to educate and inform park visitors who can drive their vehicles through a new bison viewing area. The first eleven animals were recently introduced into the Park and are rare in that they are genetically very close to the original American Plains bison. The herd is expected to grow to 30-40 animals. Minneopa's location, only 90 minutes southwest of Minneapolis-Saint Paul, will allow many to experience bison in a native habitat, on a day-trip.

According to Minnesota DNR Regional Naturalist Alex Watson, "An information radio station was the safest option to deliver information to users who spend time along the road searching for wildlife. This station helps answer visitor questions and saves time for our staff.
© 1983-2022 •

Information Station Specialists, Inc.

• All Rights Reserved
PO Box 51, Zeeland, Michigan, USA, 49464-0051, Phone 616.772.2300, Fax 616.772.2966, Email the Editor

• • •

Information Radio Stations is a generic term synonymous with Travelers Information Stations (TIS), Highway Advisory Radio Stations (HAR) / Highway Information Systems & Low Power Radio Stations (LPR). Operation of the stations is governed by FCC Part 90.242 Rules. A FCC license is required. Information Radio Stations may be fixed or portable. Subcomponents may include transmitter, antenna and ground system, digital voice player, wattmeter, cabinet with conventional or Corbin locks, lightning arrestors for RF, power and telephone lines, coaxial cable. Most stations employ black maximized antennas to discourage ice accumulation and security measures to prevent unauthorized program access. Options include synchronization, battery backup, solar power, remote programming by local, network or telco, multi-station audio distribution via RF or LAN / WAN or wireless network.