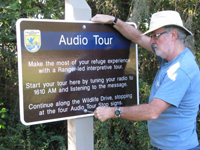 Interpretation Inspiration
Wildlife Refuge Uses Special Radio Stations to Tell Stories
HARDEEVILLE, SC: Talk about talking non-stop! Savannah National Wildlife Refuge is telling its unique story to visitors all day long on its wildlife drive's new "Audio Tour" through the use of five low-power radio stations. Each station describes for visitors what they are seeing – and in some cases what they can't see – as they look out their car windows at key locations in the Refuge.

According to volunteer engineer Arnie Weisbrot, using radio for interpretation is not a new idea when considered against competing technologies that use smartphones or special audio players to perform similar tasks. But the staff at Savannah NWR chose to use the radio method because of the universal presence of radio receivers in automobiles and because of radio's ability to "spread interpretive information to a wider audience." States Weisbrot, "Potential users are familiar with this type of system…thus making public acceptability and experience levels very high." Systems that provide aural interpretation are also popular because they allow visitors with impairments to experience historic sites and natural areas in a comfortable, convenient environment.

What makes Savannah NWR's System unique?
Repeating audio programs in mp3 format, processed for high quality and kept in a library for later editing. Hear example.
The programs are loaded to the radio stations via flash drive/USB to streamline message changes. Each program may be of any length, simplifying the process of message creation. The programs automatically repeat and are maintained indefinitely, if power is lost.
The Refuge uses message recording services of Information Station Specialists' professional announcers to create a highly professional yet customized presentation. The recording service is provided to the Refuge at no charge because of their membership in AAIRO.
Three of the five radio station locations operate on 12V DC and are solar powered.
Information Station Specialists' InfOspot Broadcast System was chosen by Savannah National Wildlife Refuge due to its ability to meet the above technical standard.

Read the full Savannah NWR case study, written and submitted by Arnie Weisbrot.
TIS Gets Boost from Broadcasting Association
National Association of Broadcasters Proposes TIS Filter Compromise
WASHINGTON, DC: In the recent "Further Notice of Proposed Rulemaking," the FCC in July asked for comments on the American Association of Information Radio Operators' (AAIRO's) proposal to improve the quality of Information Radio (TIS) broadcasting through removal of the 3 kHz transmitter audio filter. Though most parties commented positively and a few negatively on the question, the National Association of Broadcasters (NAB), in a surprise move, said "maybe."
While echoing the Society of Broadcast Engineers' (SBE) position that the filters should not be removed, the NAB also opened the door a crack by proposing an "alternative compromise proposal" that would permit Information Radio operators to substitute instead "a wider filter, which should enable a higher quality TIS signal without impeding AM radio services." NAB proposes a 5 kHz filter in place of the present 3 kHz design mandated by the FCC.

The constructive response by the NAB is the first – if tacit – acknowledgment of the value of the Information Radio (TIS) Service by the venerated Association.

In reply comments, AAIRO restated its position that the filters may be removed without harming neighboring stations on the AM band, but conceded that the NAB's 5 kHz proposal nonetheless has merit. AAIRO also requested of the FCC that any filter design changes be optional for existing operators and that recertification of modified transmitters not be required. AAIRO proposed that filters would be eliminated from future transmitter designs, suggesting that any future required filtering be accomplished by an independent device placed ahead of the transmitter's audio input. The rationale behind the "outboard filter" suggestion is to make an upgrade to wider/non filtered operation simple and inexpensive for existing licensees.
New Commercial Radio Station to Crowd AM 1700 near New York City
WASHINGTON, DC: On November 18 , the FCC set May 6, 2014, for the much awaited "Auction 84" that will offer construction permits for 22 new commercial AM stations in various places in the United States. What the announcement does not state is that one of the new stations, if licensed and constructed, will blast Information Radio services operating on frequency 1700 in New York City and the surrounding region.

Founders of the American Association of Information Radio Operators began a campaign of informing affected Information Station operators as early as 2007, when broadcast companies began applying to bid on the frequency. At that time, various communities met with congressional representatives in an attempt to head off the frequency impasse. See their letter to the FCC.

Though it may be years away before the radio station is built and on the air, AM 1700 operators in southern NY and northern NJ are advised to begin considering a frequency change in advance of the station's advent. In 2009, FCC engineers offered assistance in accommodating the new station by suggesting alternate frequencies available for affected licensees. Since then, Information Station Specialists has not licensed new services on AM 1700 in that vicinity. Information Station Specialists can advise if a station's operation will be adversely affected and can recommend a course of action to maintain continuity of service. Ask Us.
© 1983-2022 •

Information Station Specialists, Inc.

• All Rights Reserved
PO Box 51, Zeeland, Michigan, USA, 49464-0051, Phone 616.772.2300, Fax 616.772.2966, Email

• • •

Information Radio Stations is a generic term synonymous with Travelers Information Stations (TIS), Highway Advisory Radio Stations (HAR) / Highway Information Systems & Low Power Radio Stations (LPR). Operation of the stations is governed by FCC Part 90.242 Rules. A FCC license is required. Information Radio Stations may be fixed or portable. Subcomponents may include transmitter, antenna and ground system, digital voice player, wattmeter, cabinet with conventional or Corbin locks, lightning arrestors for RF, power and telephone lines, coaxial cable. Most stations employ black maximized antennas to discourage ice accumulation and security measures to prevent unauthorized program access. Options include synchronization, battery backup, solar power, remote programming by local, network or telco, multi-station audio distribution via RF or LAN / WAN or wireless network.