This sign in Calexico, California, marks the location of the US/Mexican border for motorists seeking to cross.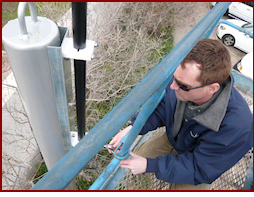 High above ground, Technician Geoff Penna installs the Information Radio Station antenna at Laredo, Texas. A Vertical Profile Antenna Support and Grounding System was utilized to minimize size and visual impact and to reduce installation time.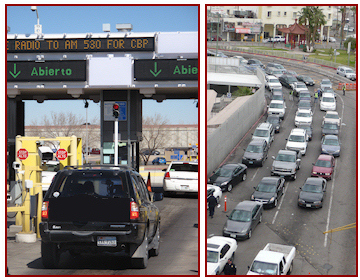 Left: Overhead changeable message signs announce the radio frequency to motorists approachi8ng the El Paso, Texas, entry port.
Right:
Motorists line up in Mexicali, Mexico, to enter the USA via the Calexico (east), California, entry port.
Points of Entry
October 2012
Customs and Border Protection Deploys First National Network of Information Radio Stations
WASHINGTON, DC: Customs and Border Protection (CBP) is in the process of installing special information radio stations, referred to as a Travelers Information Station/Highway Advisory Radio (TIS/HAR) system, at key land border ports of entry, providing information to approaching motorists with the intention of expediting their passage across the border.

Federally licensed 10-watt AM radio stations are currently installed in El Paso, Laredo, Texas; San Luis, Arizona; and Calexico (East), California. Additional sites are planned on the southwest border; and locations on the US/Canadian border are also being considered.

Information Station Specialists of Zeeland, Michigan, is providing the design, electronic equipment and installation services for this new, pilot project.

The stations provide the capability of broadcasting time-sensitive messages developed at the local ports of entry, in addition to messages developed at the national level by CBP Headquarters.

On October 10, 2012, GSN Government Security News reported that the newest station is located at the Bridge of the Americas (BOTA). The public can tune to the 10-watt signal at AM 1620. "The goal of the radio broadcast is to communicate important border crossing information to members of the traveling public who are in the vicinity of the port of entry," said CBP El Paso Port Director Hector Mancha. "From one end of the radio dial to the other, CBP in El Paso is now broadcasting vital bilingual travel information 24 hours a day, seven days a week."

The BOTA system supplements a similar low-power radio that went live at the Ysleta crossing in February. According to the CBP, each signal broadcasts a bilingual message several miles away from the ports. The CBP has indicated that the pilot program is being monitored for effectiveness and will inform further system installations and messaging.

As stated above, to date, The CBP has installed AM radio frequency transmitters at six locations on the southwest border including the two in El Paso, and one each in Brownsville and Laredo, Texas; San Luis, Arizona, and Calexico, California.

CBP project manager Daniel Piscopo states that the broadcast messages will include "how to use high-tech travel cards, information about CBP's Trusted Traveler Programs, basic border crossing rules and regulations, emergency travel information and updates, and border wait times."

Results of the pilot survey conducted by CBP at El Paso, Texas, indicate that there is considerable awareness and favorability regarding use of the radio stations and agreement that they would be especially valuable as a tool to gauge wait times.

CBP is now able to communicate directly to travelers about how to expedite their border crossing, for example, by broadcasting information about CBP programs such as the Ready Lane — an expedited travel lane for people with radio frequency identification technology enabled cards -- and Trusted Traveler lanes for pre-approved, low-risk travelers.

Radio broadcasts can be heard for several miles around the ports, giving CBP the ability to provide necessary information to travelers as they approach the border. Perhaps someday it will be common practice for motorists to reach for their radios as they reach the US.

CBP news release, "CBP Launches Border Radio Pilot; AM Radio System Installed to Inform Land Border Crossers."

See also an update to this story.
© 1983-2022 •

Information Station Specialists, Inc.

• All Rights Reserved
PO Box 51, Zeeland, Michigan, USA, 49464-0051, Phone 616.772.2300, Fax 616.772.2966, Email the Editor

• • •

Information Radio Stations is a generic term synonymous with Travelers Information Stations (TIS), Highway Advisory Radio Stations (HAR) / Highway Information Systems & Low Power Radio Stations (LPR). Operation of the stations is governed by FCC Part 90.242 Rules. A FCC license is required. Information Radio Stations may be fixed or portable. Subcomponents may include transmitter, antenna and ground system, digital voice player, wattmeter, cabinet with conventional or Corbin locks, lightning arrestors for RF, power and telephone lines, coaxial cable. Most stations employ black maximized antennas to discourage ice accumulation and security measures to prevent unauthorized program access. Options include synchronization, battery backup, solar power, remote programming by local, network or telco, multi-station audio distribution via RF or LAN / WAN or wireless network.