Aurora chose an outdoor cabinet for electronics with doors that open on two sides.
Subcontractor Century Electric's Mike Kattich mounts the antenna, while the supplier's field tech installs electronics.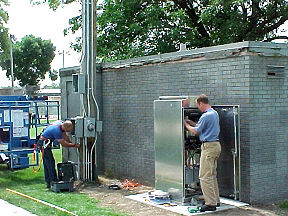 Mike Kattich & Tom Coviak route services.
Aurora Illinois Emergency Management Department
2005, 2013
Snapshots of Aurora's Emergency Advisory Radio Station Installation: ALERT AM
In 2013, Mark Flaherty, then emergency management director for the City of Aurora, (along with many other licensees) sent the FCC the following letter discussing the value of information radio in support of updating rules for the Travelers Information Radio Service. Subsequently, the FCC did clarify and update the Rules.
"Located 40 miles west of Chicago, Aurora is the second largest city in the State of Illinois. The City of Aurora has been a licensed operator of a Travelers Information Station for many years [since 2005]. As Aurora's Emergency Management Director, I want to congratulate the FCC on their work to update TIS Part 90 Rules, especially with regard to giving licensees more discretion in emergency information that can be broadcast. I also want to encourage the Commission to finalize the proposed rules without delay.

"It is extremely helpful that the FCC has clarified the broadcast content for Public Safety related emergency messages, such as AMBER and Silver alerts, evacuation routes, emergency points of assembly, locations of shelters, health care and other emergency facilities, and NOAA 'All Hazard' Alerts. I also fully support the removal of the output filters but respectfully ask that removal be made optional and that recertification not be required.

"... Forecast information is vitally important from a Public Safety standpoint for informing the motoring public and those who work, conduct, manage, participate, or attend outdoor activities such as the building trades/construction sites, outdoor sports and recreation events, outdoor fairs, community festivals, concerts, or farmer's markets, etc. Hazard/threat awareness is critical to personal safety and avoiding exposure to hazardous weather situations. Knowing that a severe weather potential does not exist is equally important for planning purposes as knowing that a severe weather threat does exist. It all has to do with planning to be safe. Having full NOAA Weather Radio content available on a TIS station also works to increase the reach (listenership) of the TIS station as a public safety tool, because more people will become accustomed to listening to the TIS station as a 24/7 source of useful information readily available on a daily basis as well as during emergencies." Mark Flaherty
© 1983-2022 •

Information Station Specialists, Inc.

• All Rights Reserved
PO Box 51, Zeeland, Michigan, USA, 49464-0051, Phone 616.772.2300, Fax 616.772.2966, Email the Editor

• • •

Information Radio Stations is a generic term synonymous with Travelers Information Stations (TIS), Highway Advisory Radio Stations (HAR) / Highway Information Systems & Low Power Radio Stations (LPR). Operation of the stations is governed by FCC Part 90.242 Rules. A FCC license is required. Information Radio Stations may be fixed or portable. Subcomponents may include transmitter, antenna and ground system, digital voice player, wattmeter, cabinet with conventional or Corbin locks, lightning arrestors for RF, power and telephone lines, coaxial cable. Most stations employ black maximized antennas to discourage ice accumulation and security measures to prevent unauthorized program access. Options include synchronization, battery backup, solar power, remote programming by local, network or telco, multi-station audio distribution via RF or LAN / WAN or wireless network.