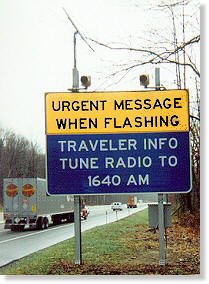 Related Links
Other Sign Products
ITS6000 Highway Advisory Radio System
VoiceStar Portable HAR with Changeable Message Sign
For Use on Highway Signs where Speeds are 60 Miles per Hour or Greater

The FAS6000 Flashing Beacons and Controller allows an operator to turn on or off a pair of flashing amber beacons on highway signs through wireless means – without compromising the AM broadcast signal. The FAS6000 includes a solar-power collection-and-storage system, receiver, two amber 8" or 12" LED flashing beacons for minimum maintenance, weatherproof enclosure, mounts, wiring and instructions.





The FAS6000 Flashing Beacons and Controller system can recognize multiple on/off codes, allowing each sign to obey commands shared with other signs in the area. In this way, common groupings of flashing signs may be keyed on or off quickly in emergency situations.





Wireless control methods include UHF/VHF radio, commercial paging, cellular SMS, wireless Ethernet and cellular DTMF. Land-based methods include Ethernet/LAN and telco landline. See below.




Eight-inch or twelve-inch LED beacons are rated for more than 100,000 hours of continuous operation. The sealed-gelled cell battery auto-disconnects at low voltage to preserve integrity. FAS6000's 64-watt unbreakable solar panel and charging system allows many hours of operation per day without tapping into battery reserves. FAS6000 batteries provide approximately 60 hours of continuous dark operation. The solar charging system adds an additional 3 to 15 hours of operation per day, on the average, varying with location and season.





The FAS6000 Flashing Beacons and Controller does not include sign panels, unless optioned.

Control-Methods Comparison

Method
3rd-Party Carrier
Requires Existing Infrastructure
Controls Signs Individually or in Subgroups
Controls Signs via Web GUI
Status Feedback Is Provided
Added Hardware Costs
UHF/VHF
Using DTMF 2-Tone

No

Yes, Requires UHF/VHF Coverage at Sign Locations on Available Frequency

Yes

No

No

No

Commercial Paging
Yes, Flat Monthly
No
Yes
With Additional Software
No
No

Cellular SMS

Yes, per Location

No

Yes

Yes

Yes

No

Ethernet
LAN or Wireless
Yes, only if 3rd-Party LAN or Wireless Provider Is Used
Yes, Network Must Be Accessible at All Sign Locations
Yes
Yes
Yes
Yes, if Wireless

Cellular DTMF

Yes, per Location

No

No

No

No

Yes

Technical Specifications

Cabinet

NEMA4, fiberglass; gasketed, weatherproof with equipment panel and I-beam or wood post mounts; vented design; key lockable.
Dimensions: approximately 24 inches by 24 inches by 14 inches.

Receiver

Time and date stamping of messages.
Pocsag or Flex available. (Flex is a Motorola trademark.)
9-15 volt DC operation.
Large CAP code capacity.
Physical (WxDxH) 20x70x30mm.
Parallel printer output (Centronics).
Serial data output (2nd port optional).
4 relays switching 12V 1A (optional).
All frequency bands available (VHF, UHF, 900 MHz).
External aerial on BNC connector.
Text search and replace.

Beacons

Battery

85 AH, 12V gelled cell battery.

Quote

Bill Baker

can provide a formal quote based on your application. An illustrated instruction manual comes with the product. We offer technical support for the life of the product 24/7.



Sole Source. We frequently are the only source for the products and services we offer and can send you support letters to affirm that for your purchasing documentation.





HGACBuy. If you are a state or local government agency anywhere in the US and you are a HGACBuy cooperative member - or want to join as an end user - you can purchase our products without the necessity of going out to bid. Membership is free to villages, towns, cities, townships, counties, state agencies, departments, authorities, districts, councils or nonprofits doing work for such entities.

Here's how to join.



Competitive Process. If you must seek competitive bids or quotes, we can supply specifications (in text form) so you can easily integrate them into bid documents.





Purchases by governmental entities can be made by purchase order, agency order on letterhead, VISA/MC (up to $3,500) or simply by signing and

returning our quote sheets. Standard terms are Net 30 days.