...Or, You Can Pay Later
Toll Road Tells How to Pay if You Don't Have an Account
IRVINE, CA: If you drive on a toll road in California's Orange County and don't have an account, now you will be told what to do − literally. Transportation Corridor Agencies (TCA), which operate the County's four toll roads, will tell you via radio how to make things right when you get home.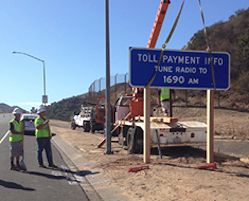 Workers install a sign announcing the new Travelers Information Service (TIS) on Orange County toll roads.
"Go to TheTollRoads.com, choose the 'One-Time Toll' option and follow the directions to pay," advises the announcer. "You can also download 'The Toll Roads' free mobile app to pay one-time tolls on your smart phone." (Click here to listen to a sample of the broadcast.)

TCA began the special broadcasts in September at Windy Ridge and Catalina View toll plazas on the 241 and 73 toll roads.
The educational campaign is expected to continue for a year. "We saw radio communication as an important tool to reach toll road drivers who need to know how to pay their toll online. Most of our customers are located in Orange County or the surrounding areas and are aware that they need an account to pay the toll. For infrequent drivers and visitors, we needed a clear way to explain how they can pay online after their trips. By augmenting on-road signage with the option to listen to the payment message while driving, we hope to ensure that Orange County visitors have a pleasant experience while diving The Toll Roads," said Lisa Telles, chief communications officer for The Toll Roads.

TCA utilizes two temporary/portable Travelers Information Stations called EventCAST

from Information Station Specialists to provide the broadcast services.
Flight 93 National Memorial "Wall of Names"
Penn Turnpike Hosts TIS Stations for New Flight 93 Memorial
Two Stations to Be Installed at Bedford and Somerset, PA
STOYSTOWN, PA: On September 11, 2001, United Flight 93, a Boeing 757 with 41 on board, perished in a remote field in South Central Pennsylvania. Now the National Park Service (NPS) is turning to trusty Travelers Information Service (TIS) radio technology to help motorists find the crash site efficiently. Solicitation documents state, "Visitors to the Flight 93 Memorial must travel many miles via rural roads to reach the memorial site. Often there are special events, changes in hours, weather, or parking conditions that NPS would like to make the public aware of prior to exiting the highway."
Two TIS stations planned for the Pennsylvania Turnpike will advise motorists as they approach the Flight 93 Memorial.
Click map icon above to see locations.
The two TIS stations will be located at Pennsylvania Turnpike facilities at Bedford (Exit 146) and Somerset (Exit 110), Pennsylvania, and will be managed remotely from Memorial administration offices at nearby Stoystown.

The winning bidder, Information Station Specialists of Zeeland, Michigan provided the project's frequency coordination and will install the equipment at Turnpike facilities this fall. The company's design allows Memorial staff to record, process and archive audio files at their offices and transfer completed programs to the stations via wireless/IP methodology. This will be the first time the agency has used wireless to manage an information radio system.

Procurement is being coordinated through the US Department of Transportation (Volpe Center) in Cambridge, Massachusetts.
Not Very Distracting
In-Car Radio Listening Rated Less Distracting than Cell Phones
With the National Highway Traffic Safety Administration stating that 80% of all traffic accidents are the result of distracted driving, the last thing you want to do is deliver additional distraction to the motoring public as you communicate a message. A new study shows that radio presents one of the least distracting means of getting a message in front of drivers.

Two studies from the University of Utah and the AAA Foundation for Traffic Safety were conducted to rank the distraction factor presented by modern in-car dashboard "info-tainment" systems. The studies ranked these systems against in-vehicle activities, such as tuning in and listening to a radio station, talking, texting or emailing on a cellphone and even using hands-free devices and text-to-speech email. On a 0-5 scale, all activities ranked between 3 and 5 in distraction, except for radio and audio book listening, which received a 1-2 rating.

Researchers stated that the goal of the study was to learn how to make info-tainment systems "no more distracting than listening to the radio."